2016-2017
FILM FESTIVAL
Kino Pravda All Kerala Short Film & Photography Festival was conducted by our Department on January 12, 2016.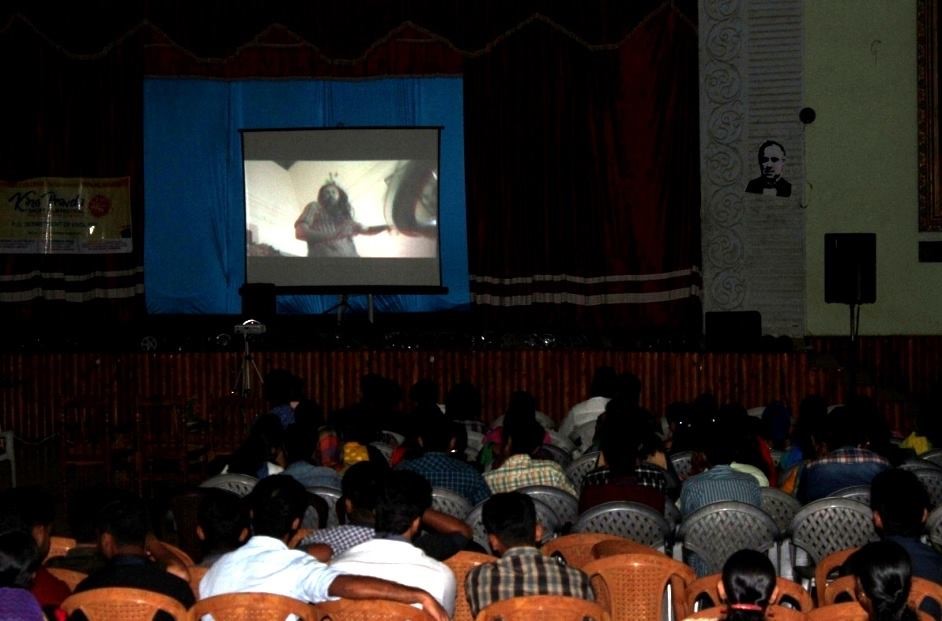 INVITED TALKS
MR. BABU THANIKKUDAM,, an eminent poet inaugurated the function on 16 March 2016. He shared his experience, when he had penned his first poetry. And he gave some tips for the budding writers. It was a fruitful session for the Department as a whole.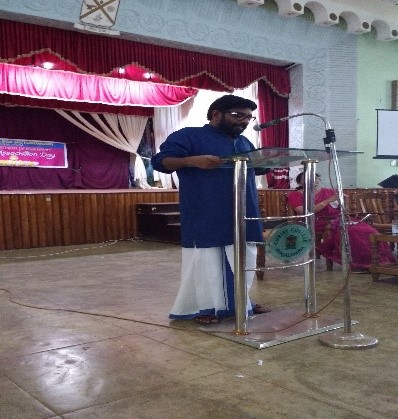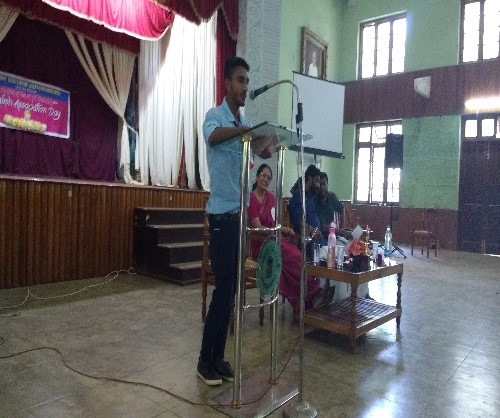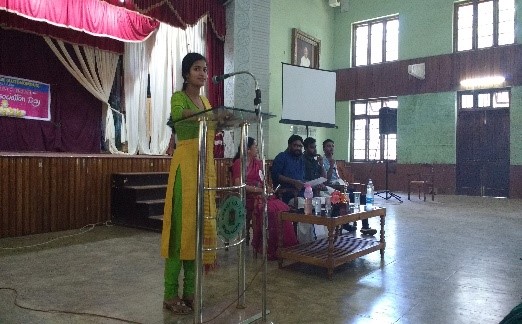 OPEN MIC DAY
Mr. Sreenath Moorthy. an eminent poet inaugurated the Open Mic Day on 16 December 2016. A Platform Where the Students of The Campus Get an Opportunity To Recite Their Poems. He shared his experience, when he had penned his first poem. And he gave some tips for the budding poets. He recited his poems. It was a fruitful session.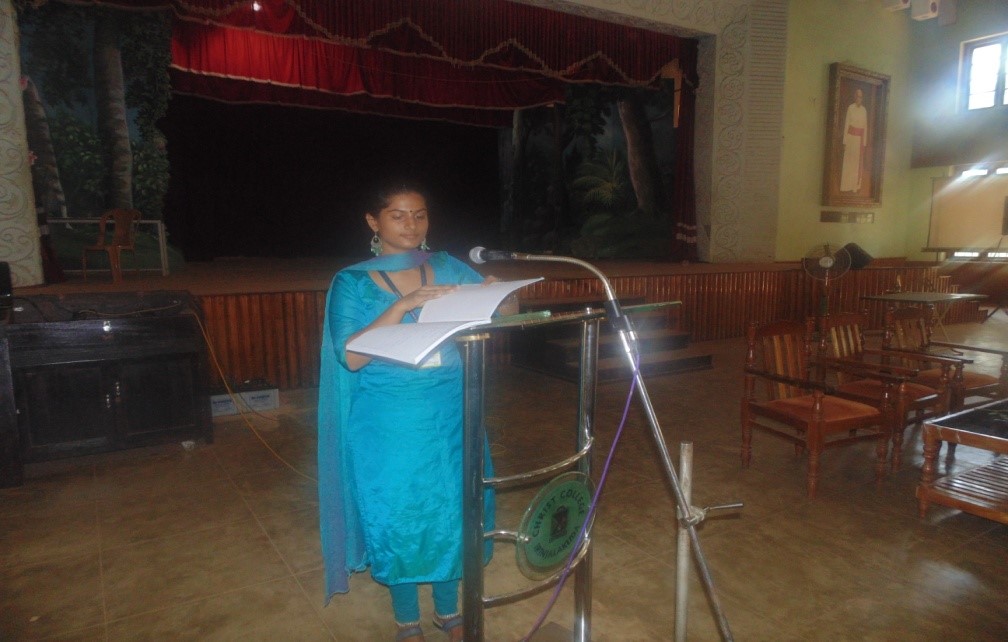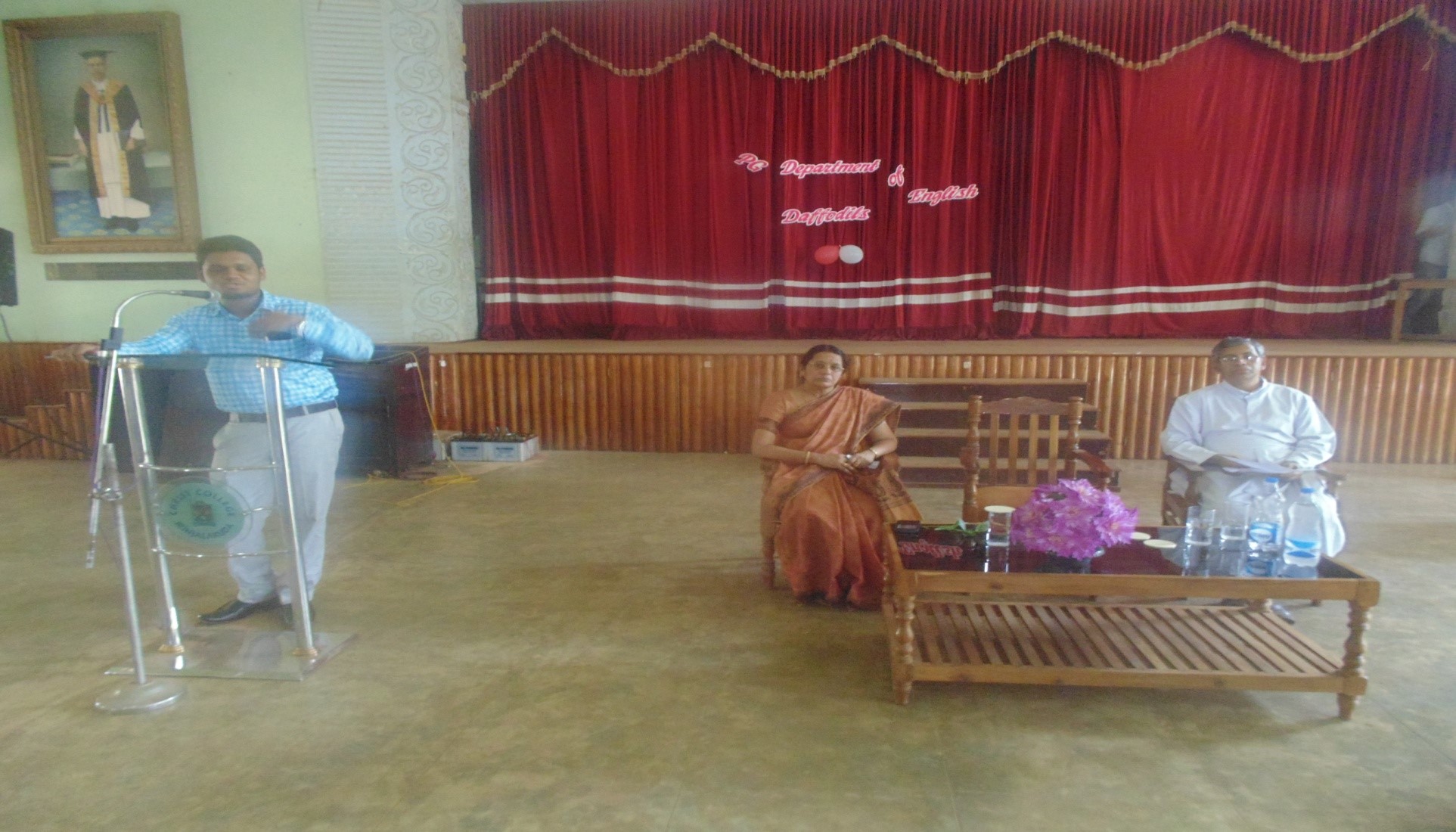 2017-2018
INVITED TALK
Dr. Nandakumar K P, Principal SN College Nattika, inaugurated the function on 13 January 2017. He had given a talk on "Shakespearean Era". It was really an informative session.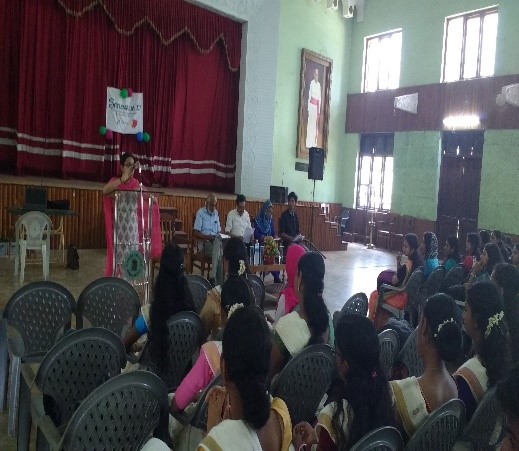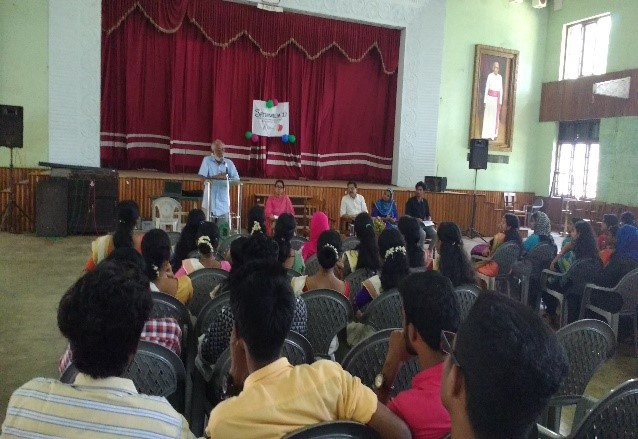 ORIENTATION PROGRAMME FOR PARENTS
An orientation programme for Parents of Final year BA English Students on 18 January 2018. There discussed the overall performance of the students till 5th Semester and their future plans.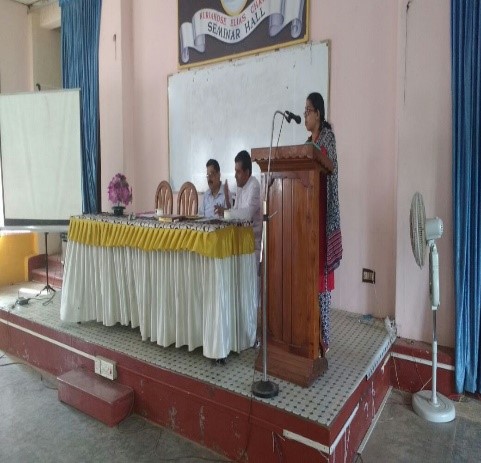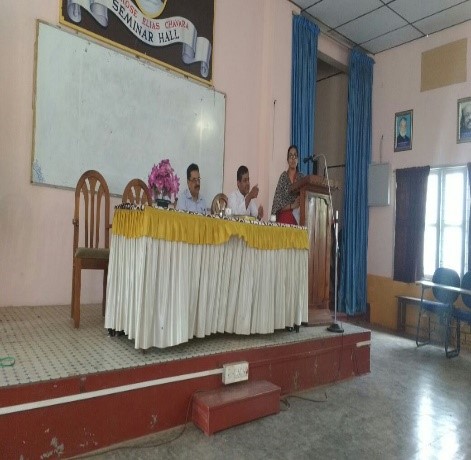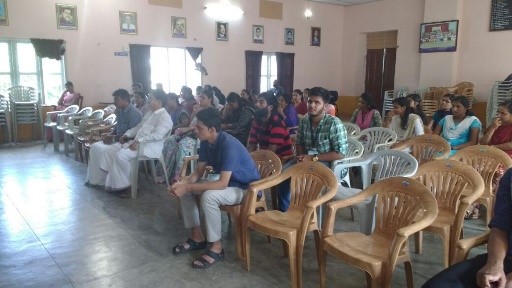 2018-2019
STUDENTS ENRICHMENT PROGRAMME
An informative session was held on 'Research Methodology' on 22/11/2018 for students of III B.A English, III B. A Functional English and III B.A Double Main. Venue – Seminar Hall,Christ College, Irinjalakuda. We conduct a Students' Enrichment Programme for both PG & UG students'on Research Methodology .Mr. Vinu James from our department lead the talk for this year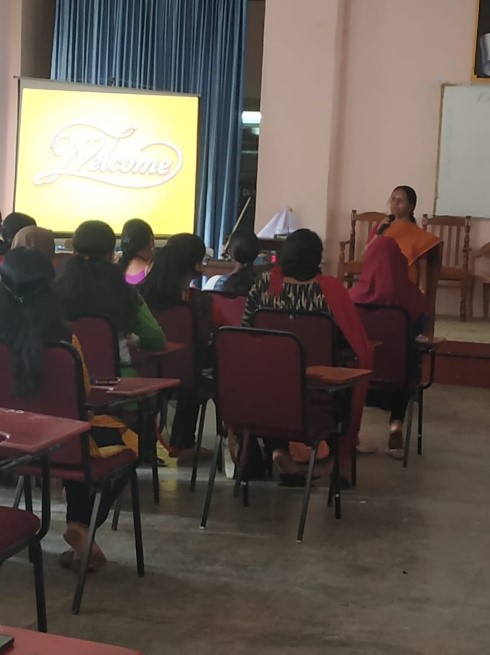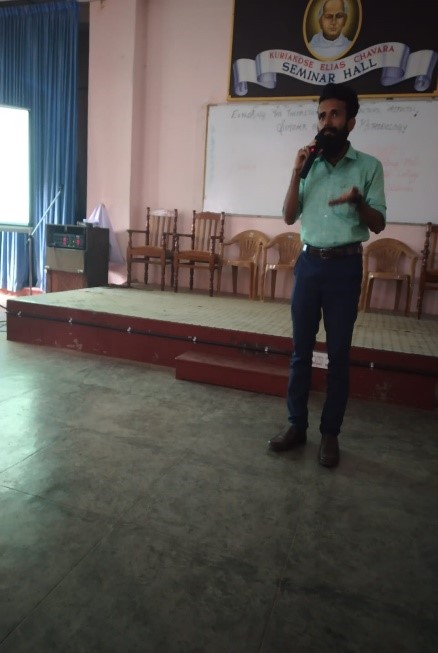 INVITED TALK
Dr. Pradeep Kumar, Asssistant Professor, Sri. Vyasa NSS College, Wadakanchery inaugurated the function "Lit Laetus" on 6 December 2018.He had given a talk on the topic "Eco criticism. The session washighly an informativeone for the students community. . Lit Laetus, the inaugural function of English Association was held on 6/12/2018. It was a grand opportunity for each students to showcase their talents. The Guest and the Resource Person of the day was Dr. K. Pradeep Kumar, Professor of VyasaN.S.S College, Vadakenchery.. The venue was College Auditorium. The function was inaugurated by Dr, Mathew Paul Ukken, Principal of Christ College( Autonomous) Irinjalakuda.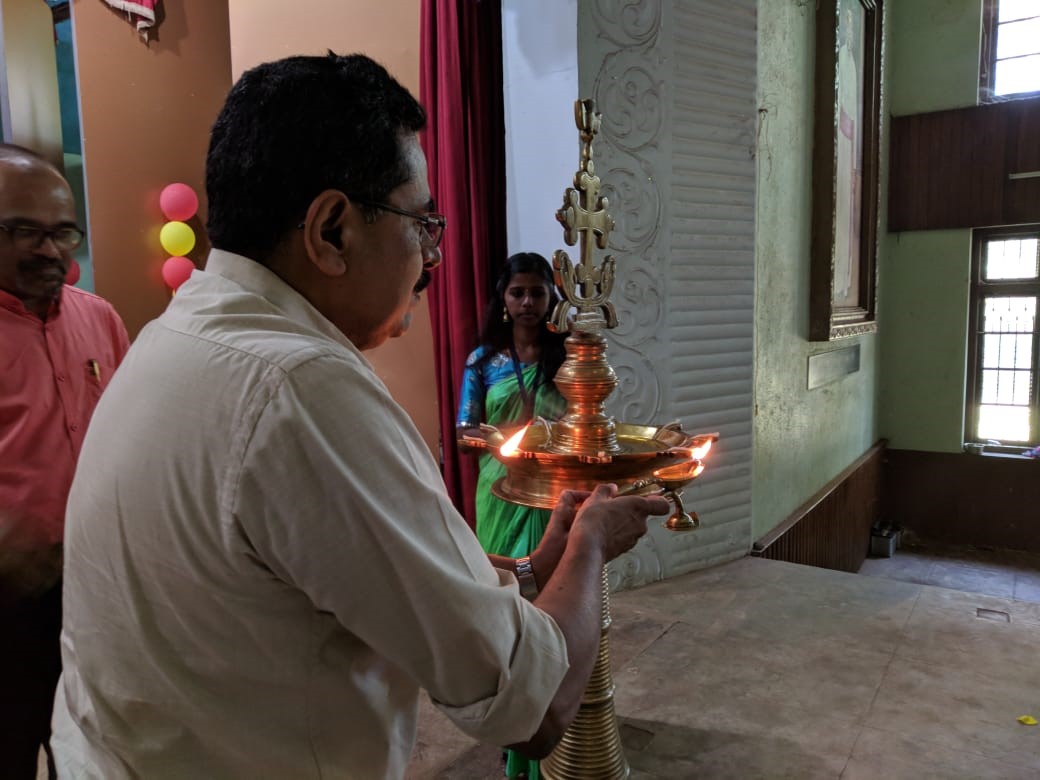 2019-2020
STUDENTS' ENRICHMENT PROGRAMME
A workshop on Research methodology was conducted for IIIrd semester PG and Vth semester UG by Clinta P.S of the English department on 6th August 2019.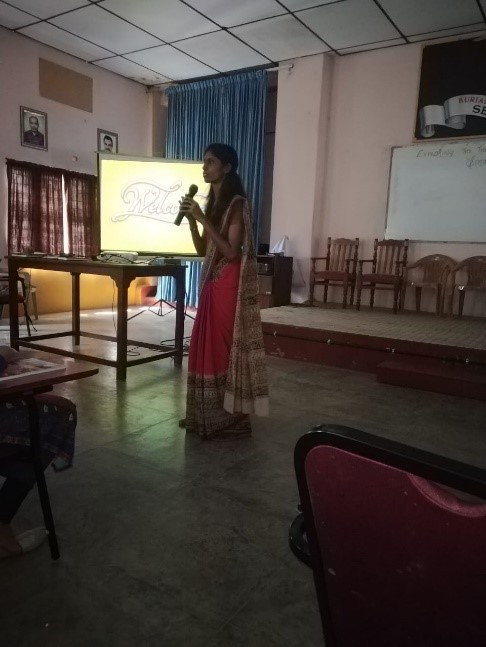 INVITED TALKS
On 13th February 2020, The English Association "VAUDEVILLE "was formally inaugurated by Prof. Reshmi S., Assistant Professor, MES Asmabi College, Kodungallur.She released the manuscript Magazine by Second year Literature students on the same day. It was a joyful and meritorious achievement for the department. The Association honoured, Nibin, a student of second year literature for his achievement in sports. It was followed by cultural events performed by students of both UG and PG.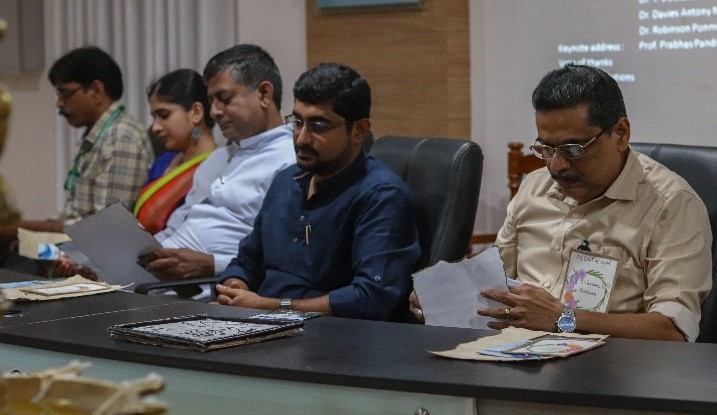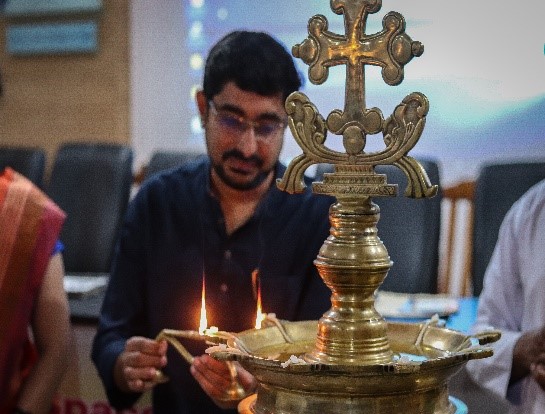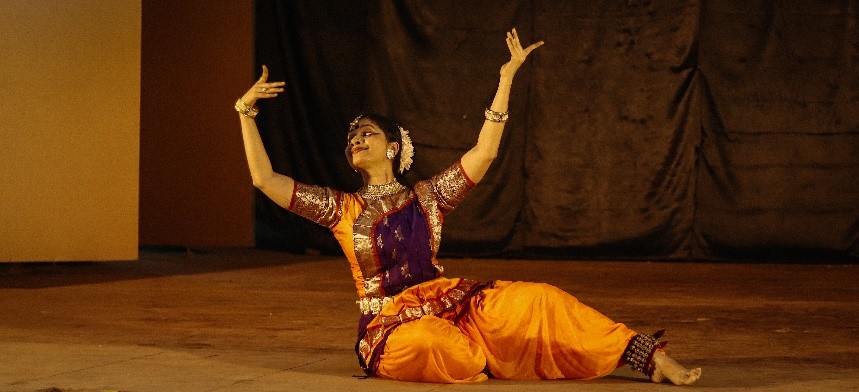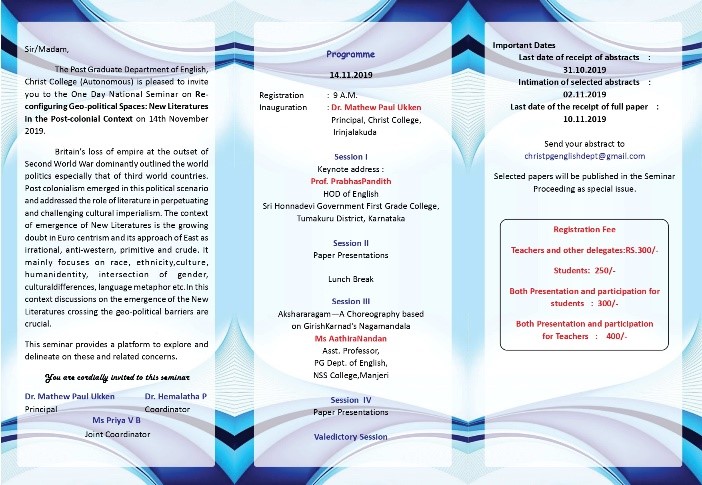 2020-2021
WEBINAR
Threshold 2020: Cornerstone to Civil Service, One Day National Webinar On The Strategies Of Achieving Civil Service Dreams was held on 21 July 2020.The resource person of the event was Mr. Sreejesh MG, Coordinator, Civil Service Academy, Trivandrum.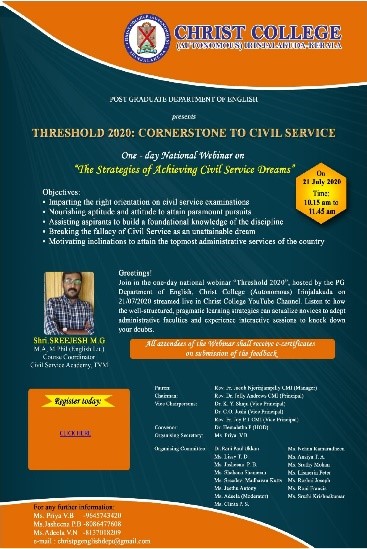 JRF/NET COACHING
The Department was conducted NET/JRG Coaching classes from 20 December 2020 for the PG students..Ms. Shahana KM ,Ms. Adeela V N, Ms. Ansiya T.Aand Ms. Sruthy Mohan are the faculties for the Coaching. All the classes are online using recorded google meet sessions and mock tests were given using Moodle and a detailed question bank was uploaded for the same. Students responded to the coaching with great enthusiasm.
CIVIL SERVICE COACHING
The PG Department of English, in association with IQAC, Christ College (Autonomous), Irinjalakkuda is all set to kickstart a six-month intensive coaching series for the UPSC Civil Services examination from 9th January 2021. The foundation course, organized for the first-year students, titled as 'Mission 2021' organized an initial gathering on 5 th January, 2021. Mr. Sreejesh MG, Coordinator,Civil Service Academy, Trivandrum,is the Resource Personfor the coaching. Mr. Sreejish delivered a motivational talk for the participants in the inaugural session.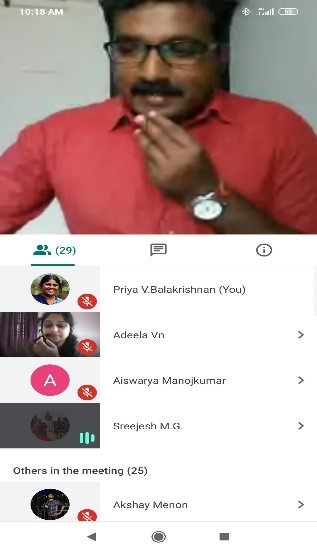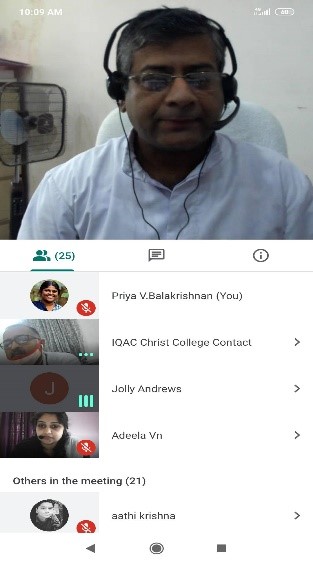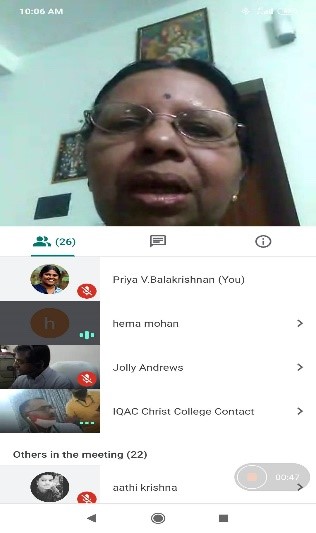 KALOPSIA
An offline Film Screening KALOPSIA, was organized by the first- and second-year BA English Literature students. It was held on 31 March 2021. The film fest screened two movies: The Fountain directed by Darron Aronofsky and Fantastic Mr.Fox by Wes Anderson. The fest was inaugurated by Hemalatha Maam. The students attained a different perspective and understood the movie through thought provoking panel discussions lead by faculty Mr,Ashwin KV and Ms,Adeela VN.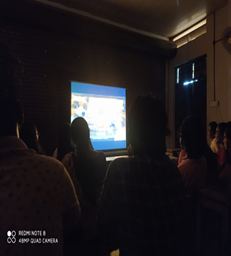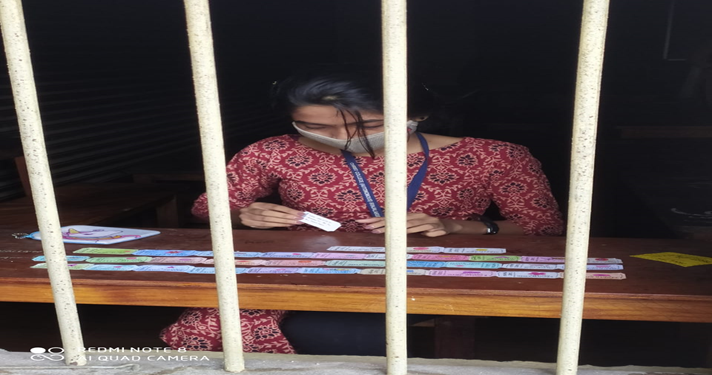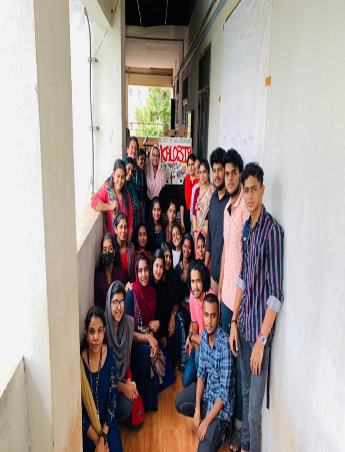 MOVIE SCREENING-SHAAYAD
An inaugural screening and discussion on SHAAYAD, a 4 part mini-series by the students of English Literature was also held on 25 th April 2021. Review and discussion session was through Zoom platform in which different perspectives of the series was discussed.