2016-2017
NOVELLA
An orientation programme organised by the department for the first year social work trainees . The programme was divided into two sessions, and the first session handled by Mr. Karthik Sasi about the Career of the Students and the second session handled by Mr. Usman K C about the topic 'WHO AM I'.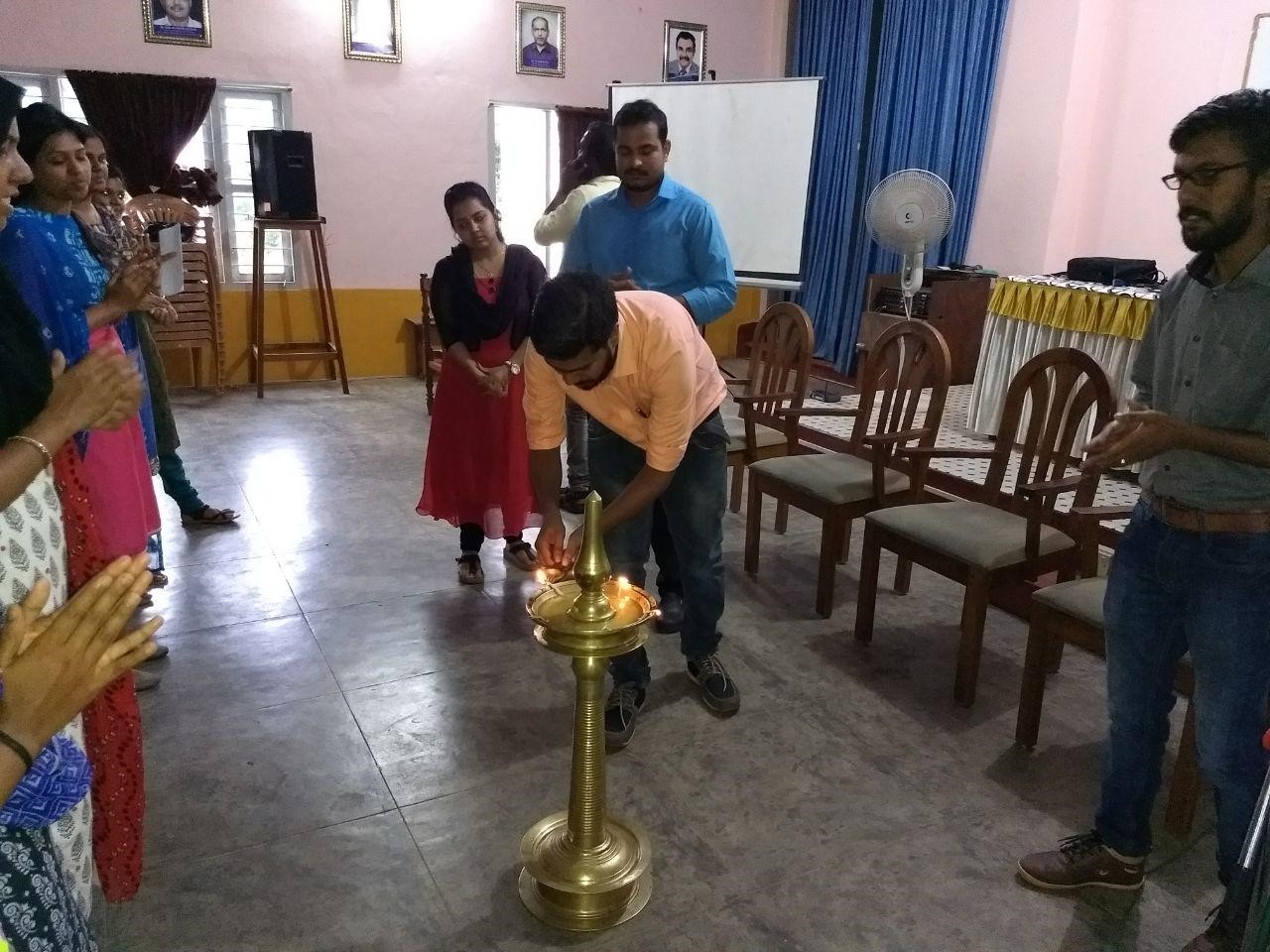 COMMUNITY LIVING CAMP
Kathir- Community Living Camp at Nemenni (Kollamkode) Palakkad
Activities like understanding the community, street play ( At Kollenkode Town)performed to spread awareness on alcoholism and its ill effects, medical camp( ayurveda), Childrens Camp at L P School.was organized. Cultural Exchange programmes with the tribal community at Palakkad.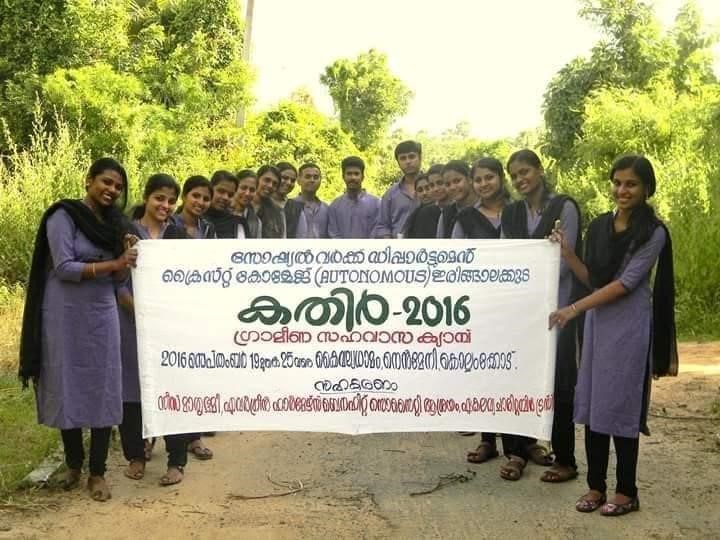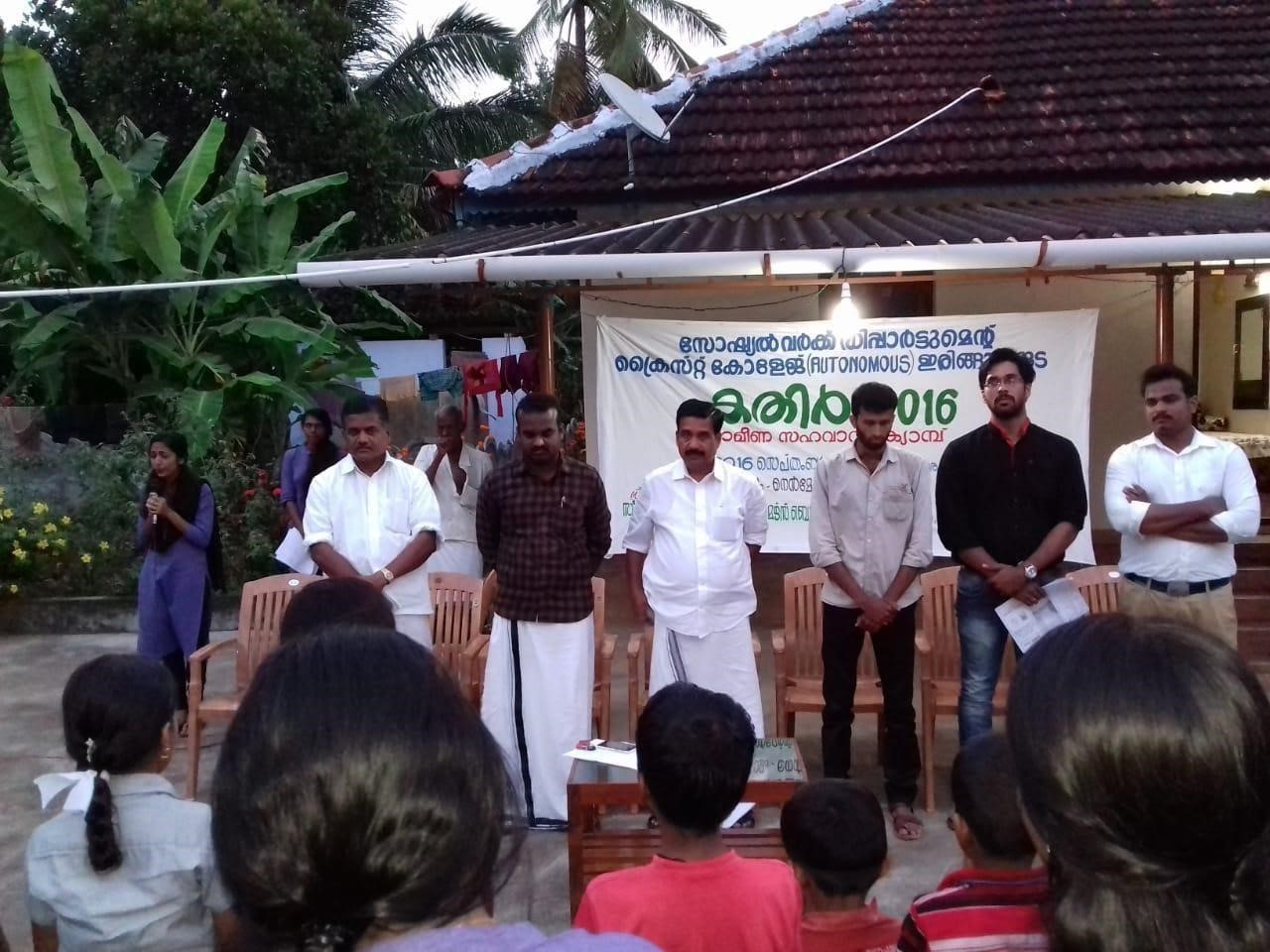 PAPER PRESENTATION
Addressing the present scenario of gender related issues faced in our society the role of individual to address these issue more in intellectual and practical manner that could be more reachable and mediating to ensure the progress to solution for for the programme.
A paper presentation on the topic 'Perception of Men and Women on the availing topic Menstrual leave at work place' as the part of the conference. And was also able to achieve the Best Paper Award.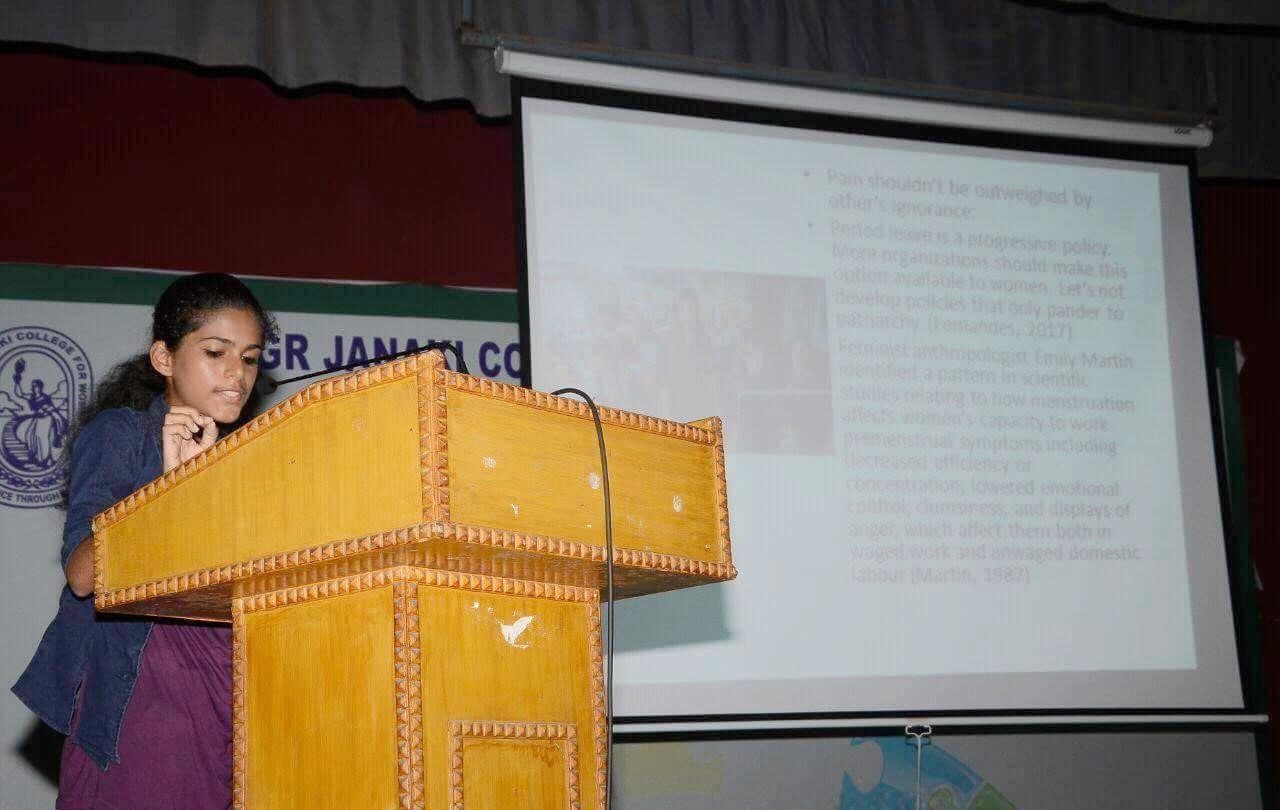 SHORT FILM "ONE DAY"
Department directed a short film with the theme of scarcity and safety. Short film director, Mr Sooraj Somachandran, DOP Farhan V S and the actor are social work students of Christ college (autonomous) Irinjalakuda.
The trainee learned about how to make a short film and its aspects like editing, photography, director and production also
evaluation; the short film was famous to its story and direction and so it received awards like "one day" short film secured 3rd prize in short film competition organized by Adishankara college, Kalady.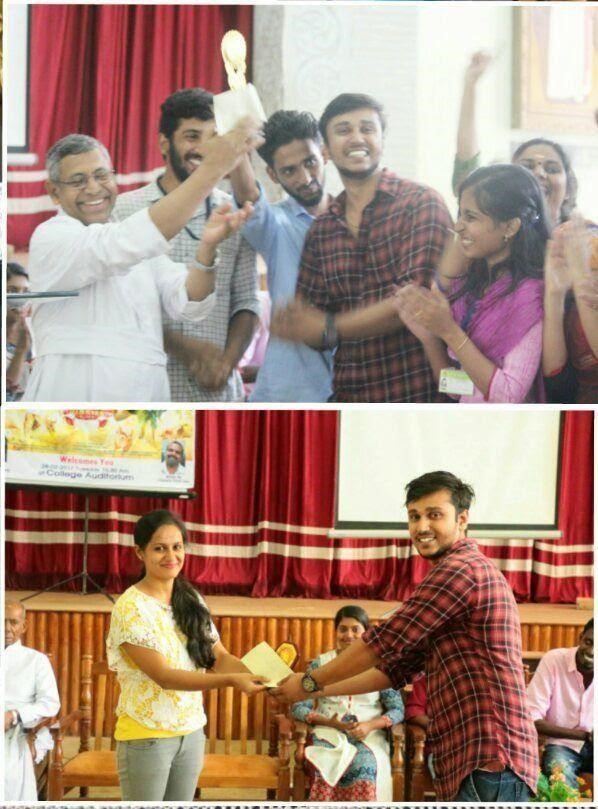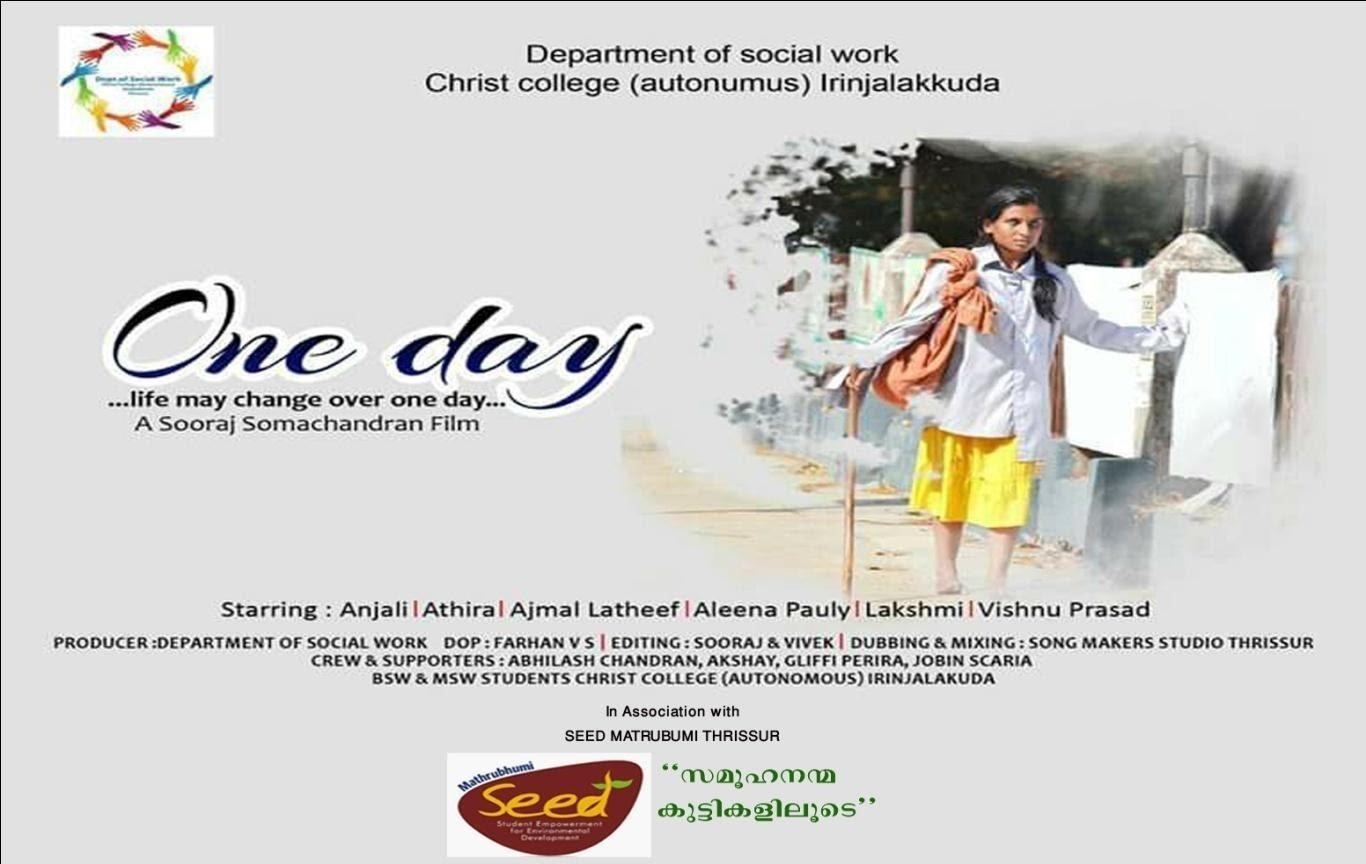 KARSHIKKAM– Poly House Project in Association With Seed Project Thrissur
Protected cultivation practices can be defined as a cropping technique wherein the micro climate surrounding the plant body is controlled partially or fully as per the requirement of crops grown during their period of growth. With the advancement in horticulture various
types of protected cultivation practices suitable for a specific type of agro-climatic zone have emerged. Among these protective cultivation practices, poly green house, net house, shade house, plastic tunnel & mulching etc. are very useful for Kerala State. Protected cultivation under different types of structures save plants from winter and extends the cultivation session for off-season crop production. SEED members of Department of social work Christ college Irinjalakuda implemented a poly house agriculture project in association with SEED project Thrissur, total area of the poly house is 30 cent.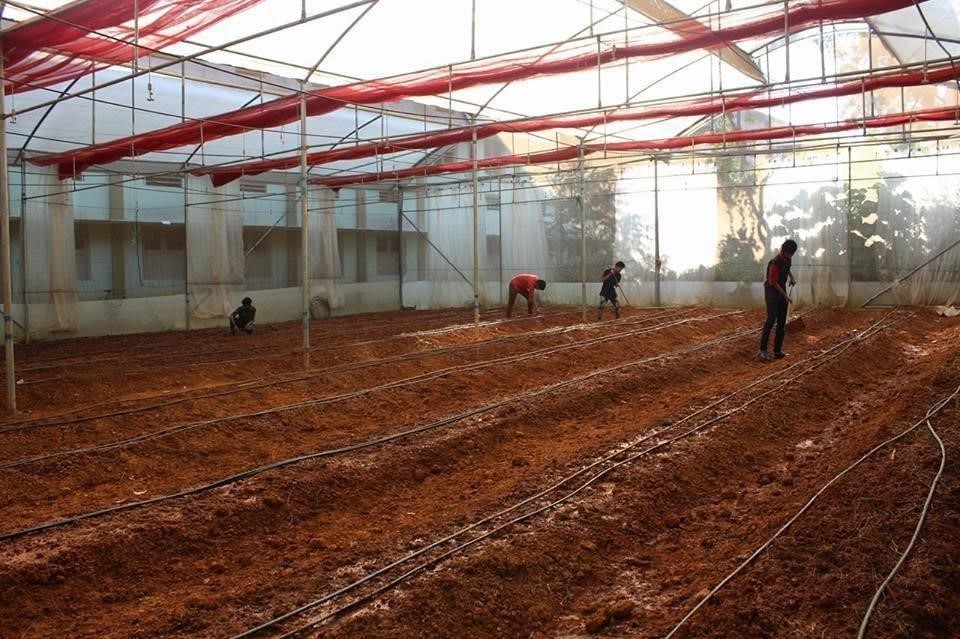 CAR FREE DAY
Car Free day organized by ESAF at Thrissur . 1ST DC BSW (2016-2019) students and all college students, school students and governmental workers in Thrissur district. As a part of car free day on 15th October 2016 the organizers conducted a street play competition and rally. In street play competition the student of BSW in Christ college Irinjalakuda was awarded 2nd prize.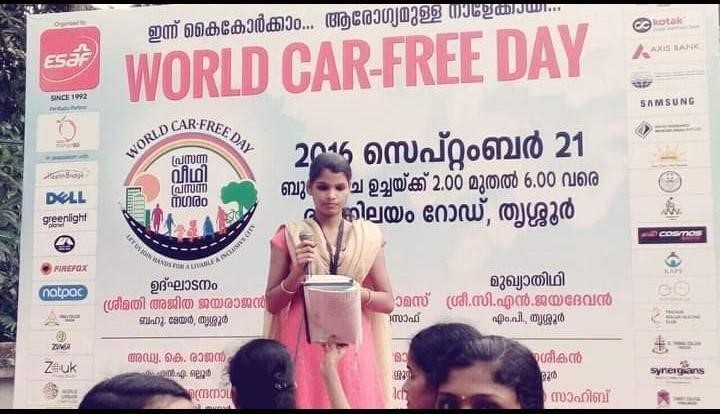 SOLID WASTE MANAGEMENT
As a part of reducing the plastic wastes from the area of Nenmanikara. Students collected the transparent plastic bottles. Members got almost 4 sacks of bottles. Solid waste collecting programme makes people more aware of using plastic waste management and its disposal. Members collected the plastic bottles and handover to recycling process.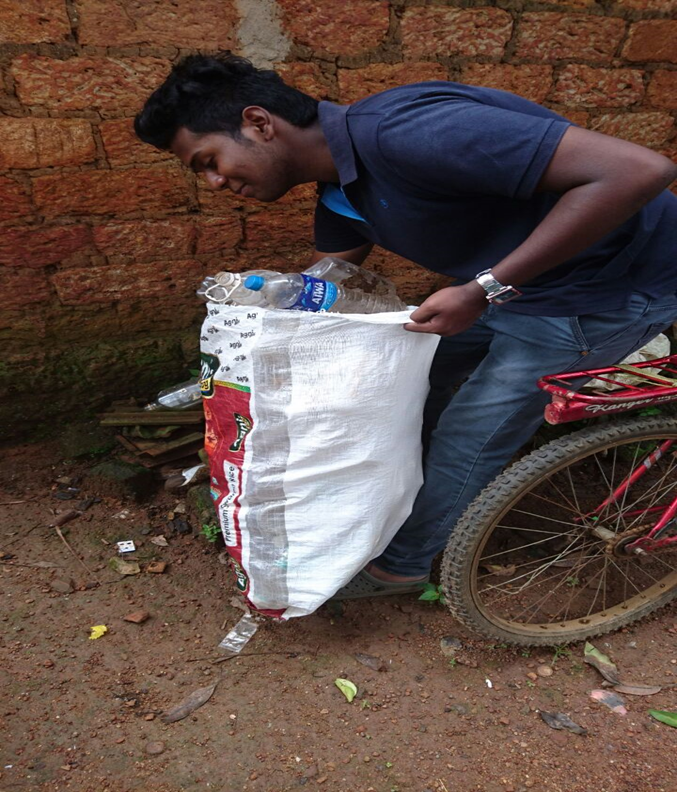 CANCER AWARENESS PROGRAMME
The programme was organized by KESS BHAVAN THRISSUR, in collaboration with the department of social work, Christ college, Irinjalakuda. The team members were Fabin (3rd DC BSW) and Jesna Vincent(1st DC BSW).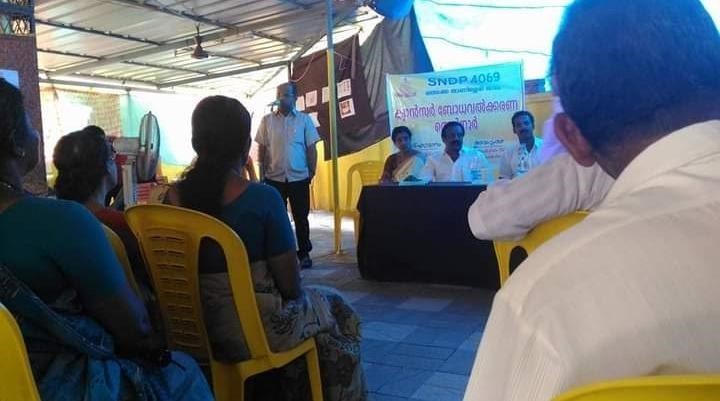 2017-2018
AWARENESS PROGRAMMES
FLASH MOB
Flash Mob performed by 2nd year BSW Students on 11 th , 12 th October, 2017As part of observing INTERNATIONAL GIRL CHILD DAY.The program was organized by District Child Protection Unit (DCPU) and Child Line Thrissur at Jawahar BAL Bhavan Thrissur and Irinjalakuda Munciplity Bus Stand and distributed notices and brochures.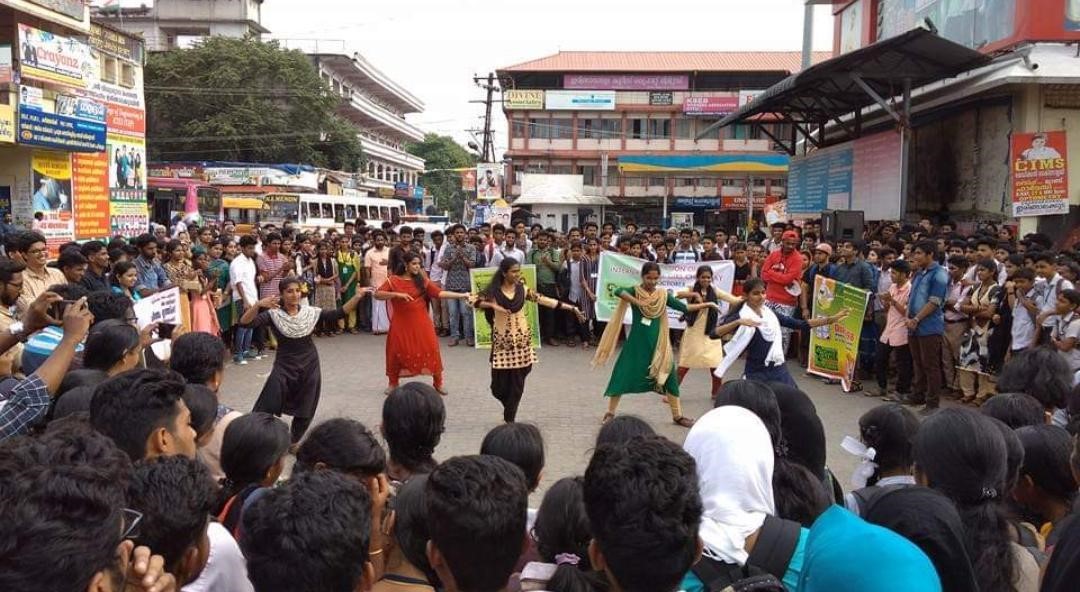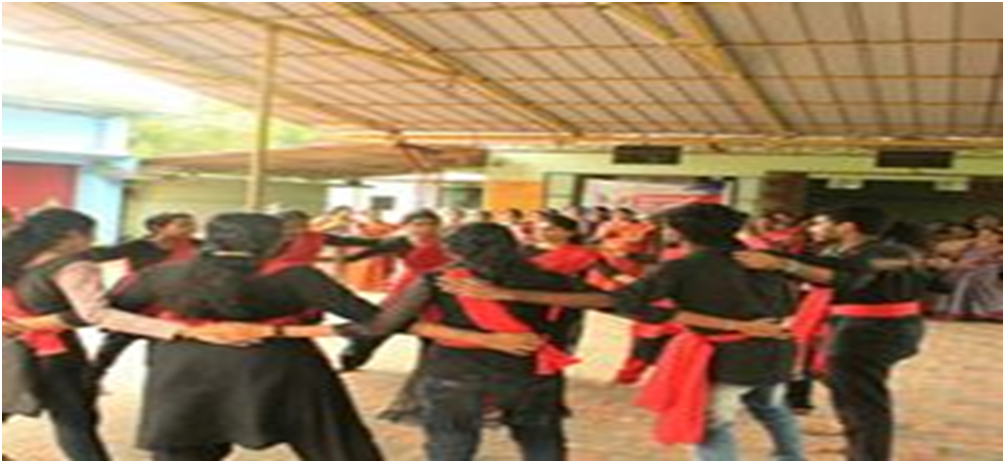 OKHI' CYCLONE - COMMUNITY SUPPORT
Seed club members of Christ College (Autonomous) Irinjalakuda visited the OKHI Cyclone affected families at Kodungallur. 20 social work trainees of Christ family participated in cleaning the surroundings of the families whose houses has been destructed by the cyclone 'OKHI'. The trainees cleaned around 6 houses completely and also the surroundings. The trainees also interacted with the people and understood their problems. The trainees were able to provide some kind of inspiration to them by their activities.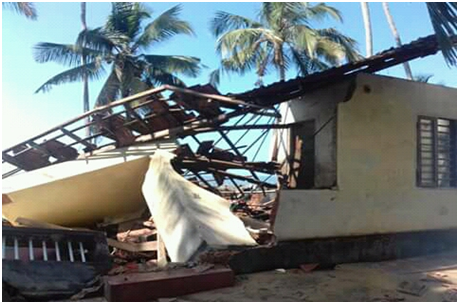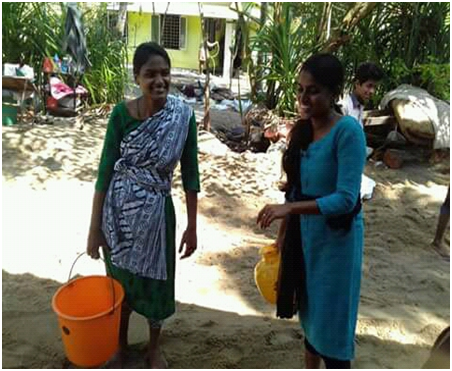 COMMUNITY LIVING CAMP
Rural Camp is an integral part of the training programme for the students pursuing Social Work. This was organized for Five days at Mullaringadu from 19thNovember to 23 November , 2017 with an objective to create a platform for the students to understand and analyze the Rural Social System, and to facilitate students experiences of group living. During this camp, the students were encouraged to organize and carry out programmes and events for social awakening and development of the people and conduct a survey on socio-economic and educational status of people at Mullaringadu.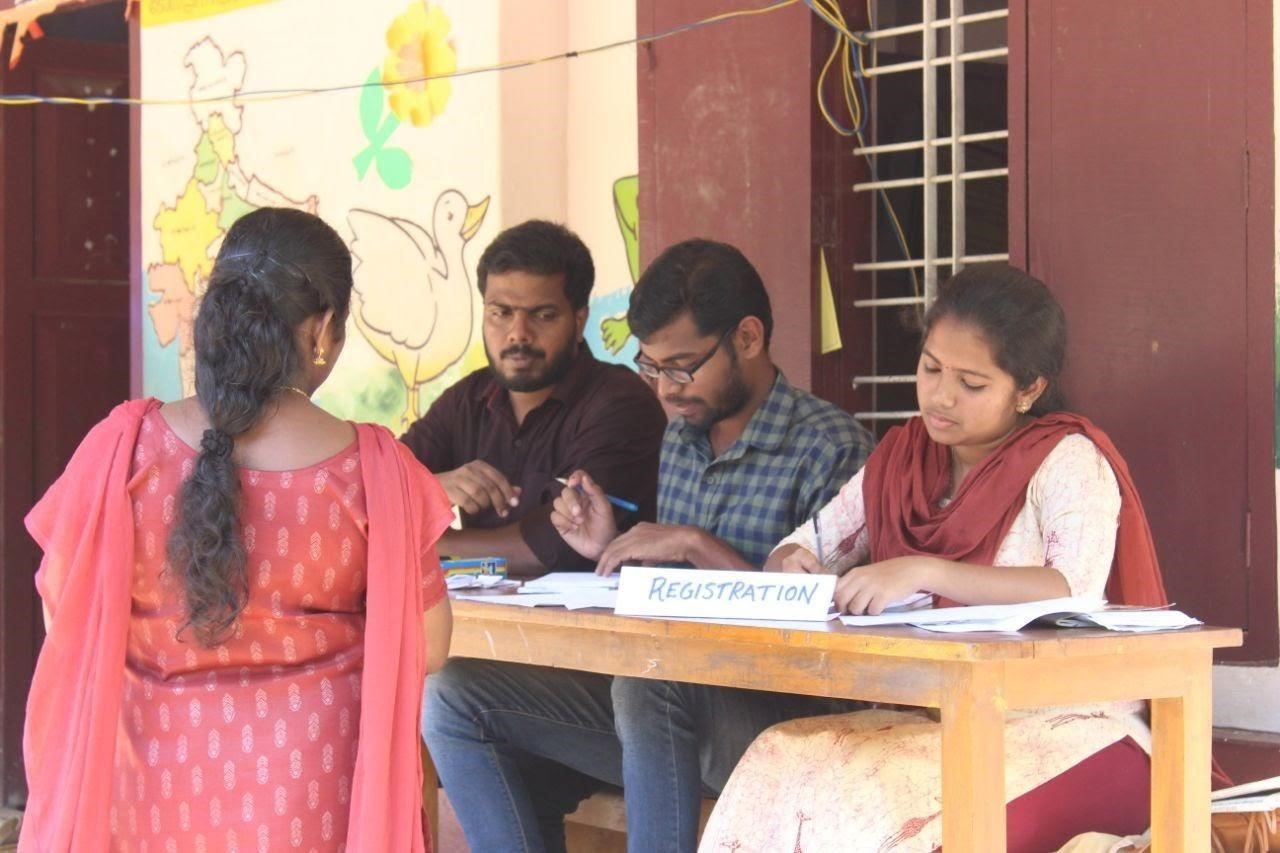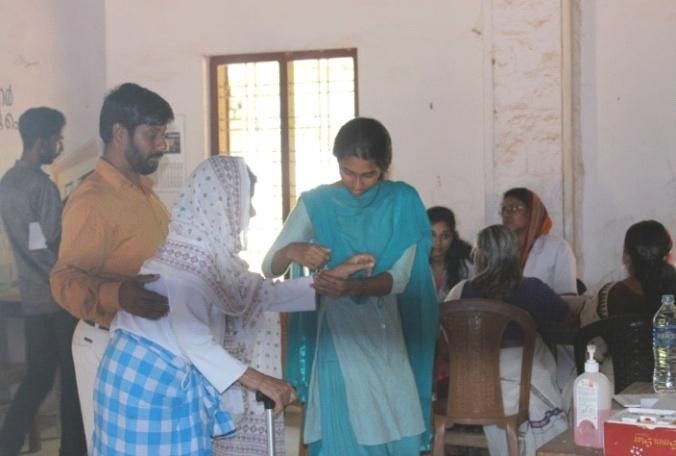 AWARENESS PROGRAMME
Organized a Theatre workshop on violation of human rights on 7th March 2018 at Irinjalakuda. 21 social work trainees participated in the programme. Output of the programme was to generate awareness about human rights among the public.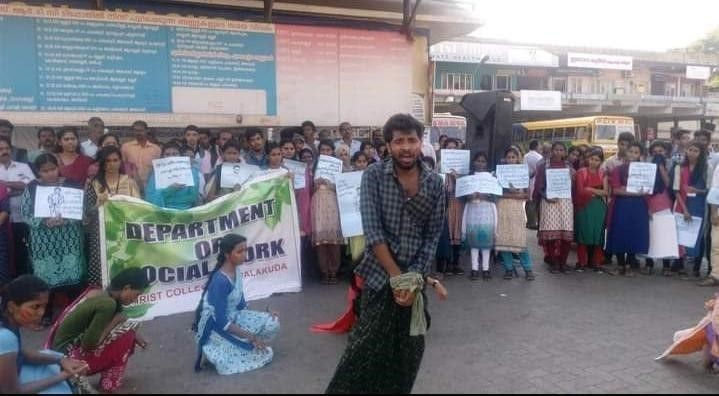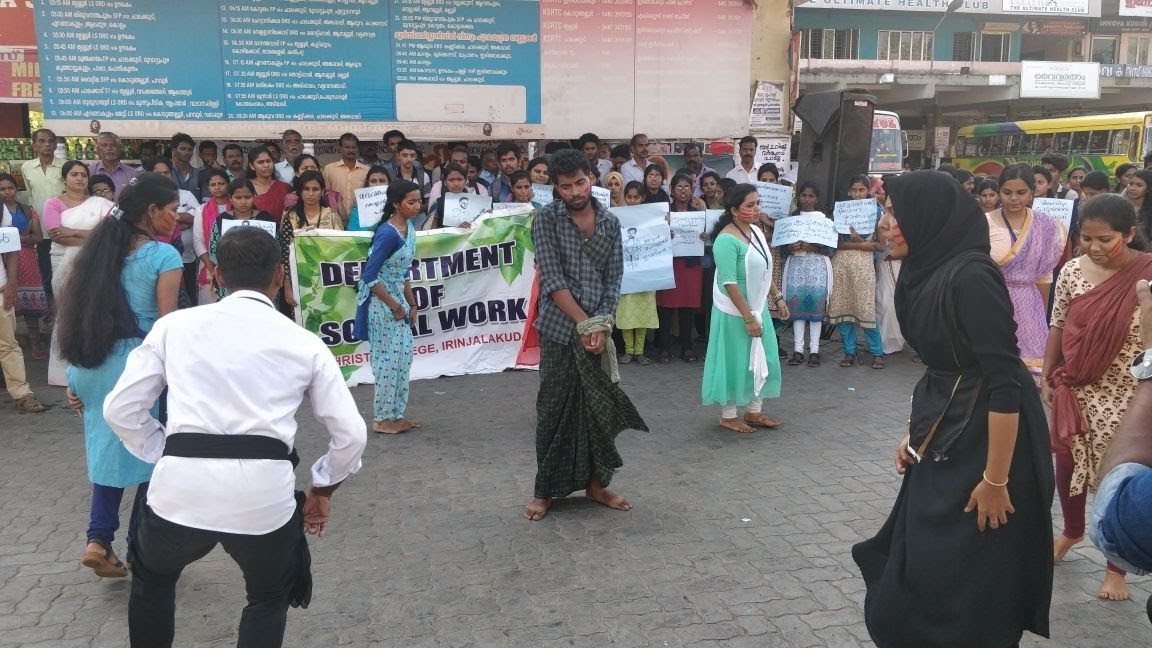 VACATION CAMP FOR CHILDREN
Department of Social Work in collaboration with Devamatha Public School, Thrissur organised a vacation camp for the students of different schools in Thrissur, who have high academic excellence and have poor financial background. The camp aims for the betterment and development of the children (5th standard – XI th). The students were very much active and try to enhance their skills and talents through participating in different activities. the social work trainees got the opportunity to interact with the students and understand their family background. Also, the trainees were able to develop their leadership qualities.
SEED AWARD DISTRIBUTION CEREMONY
MATHRUBUMI SEED organized an awarding ceremony for the best college. Christ College (Autonomous) authorities received the best college award, Mathrubumi Seed 2016-17 from film actor Mr. Jayaraj Warrier. It was result of the coordination and hard work of BSW IInd years.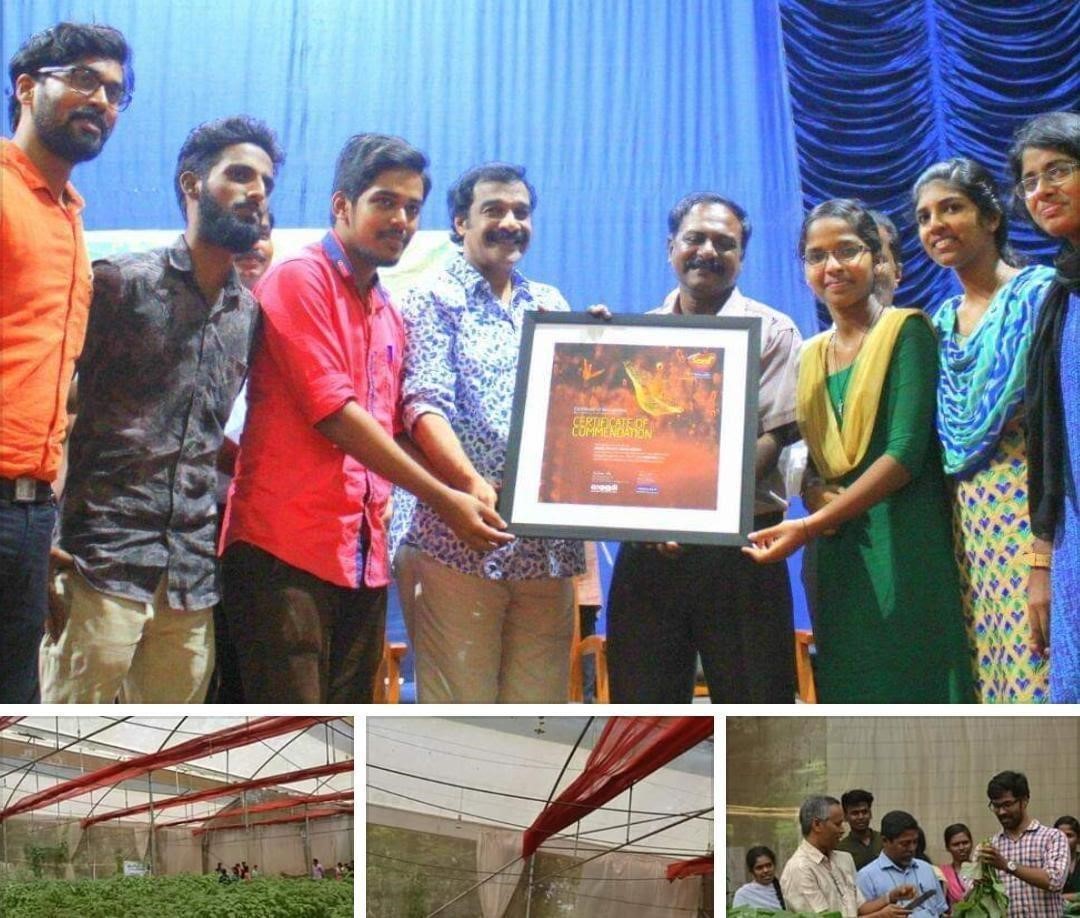 REPUBLIC DAY CELEBRATION
As part of Republic Day observation social work students participated in the tablo competition conducted and organized by Irinjalakuda Municipality authorities. The tablo was based on the topic related to the social issues and the students well organized and also participated well. The program was successfully completed.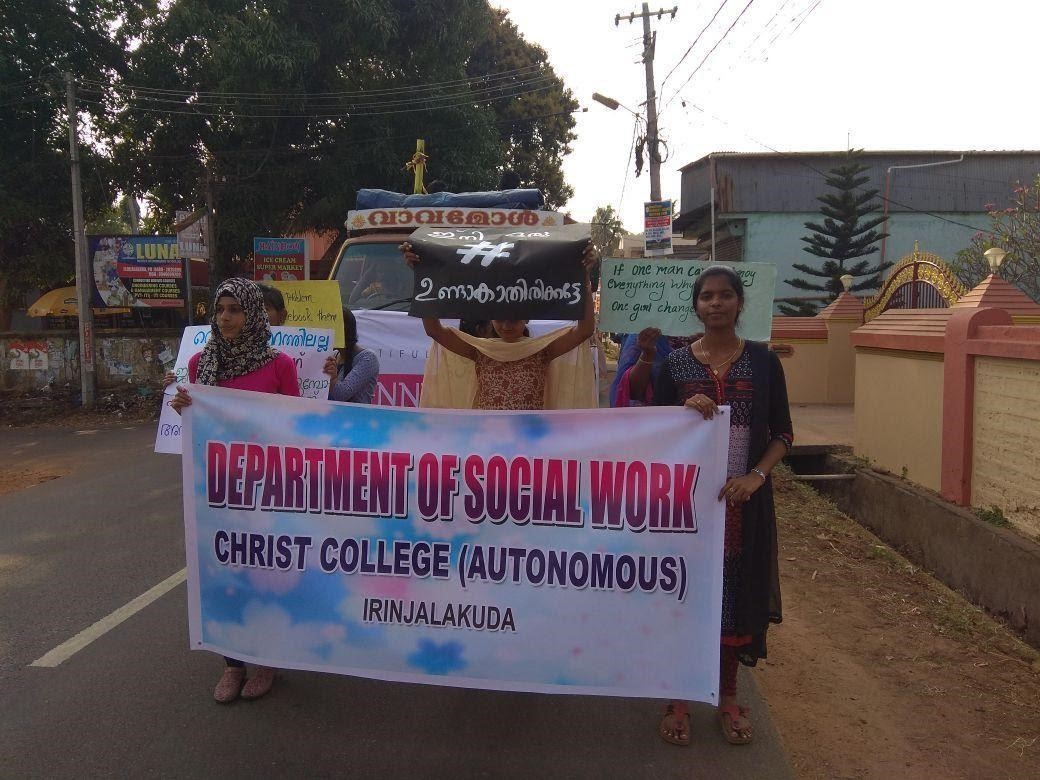 2018-2019
MANISHADA
Department of Social Work organised an awareness programme on POCSO Act 2012(protection of Children from Sexual Offence Act) on 13th June 2018. The programme was conducted in two sessions. First session was publishing the poster by Mr. Jino Devassy (Childlline Co-ordinator) and other session was an input session by Adv. Nafeesa O.A (Member of Child Welfare Committee,Thrissur).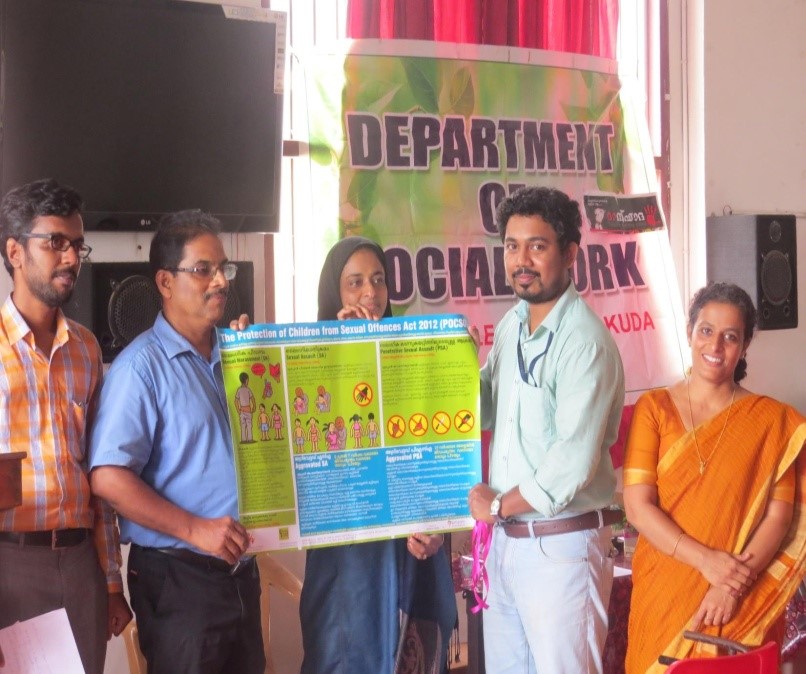 POYKA- Community living camp
1st year MSW students, as part of their curriculum organized a 5 day community living camp at Poyya Gramapanchayath. the major activity of the camp was Samagram Survey which involves flood map preparation, data collection etc..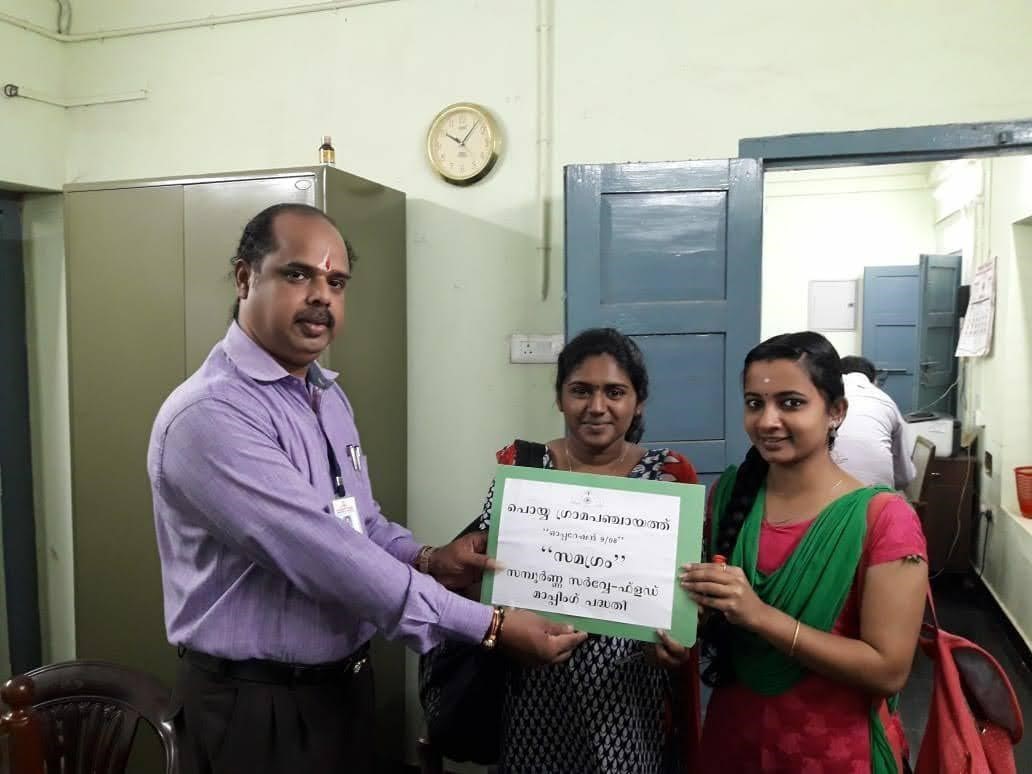 FLASHMOB
The BSW 1st year trainees of Christ college irinjalakuda(2018 Admission) conducted a rural camp at poyya gramapanchayath as per curriculum qon 12th to 17th October 2018.

COMMUNITY SUPPORT
Distribution of printer TO Govt L P School
The social work students and staff present a computer printer to govt. LP school at Ambalavayal.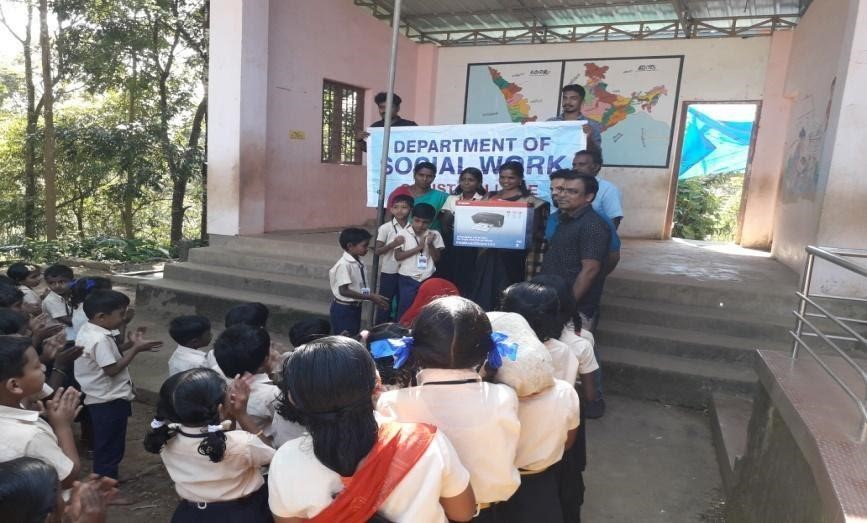 SYSTEMATIC VOTERS EDUCATION AND ELECTORAL PARTICIPATION(SWEEP)
The BSW 1st and 2nd year students of Christ college Irinjalakuda conducted a flash mob on 8th April 2019 at Irinjalakuda bus stand to promote the importance of voting. Vote is the basic right of every citizen in India. SVEEP is a campaign for systematic voter education and electoral participation. It mainly aims to educate the general public about the importance of voting. The campaign was started from Christ college with a cycle rally. Flag was hosted by Dr.Mathew Paul Ooken, principal of Christ college.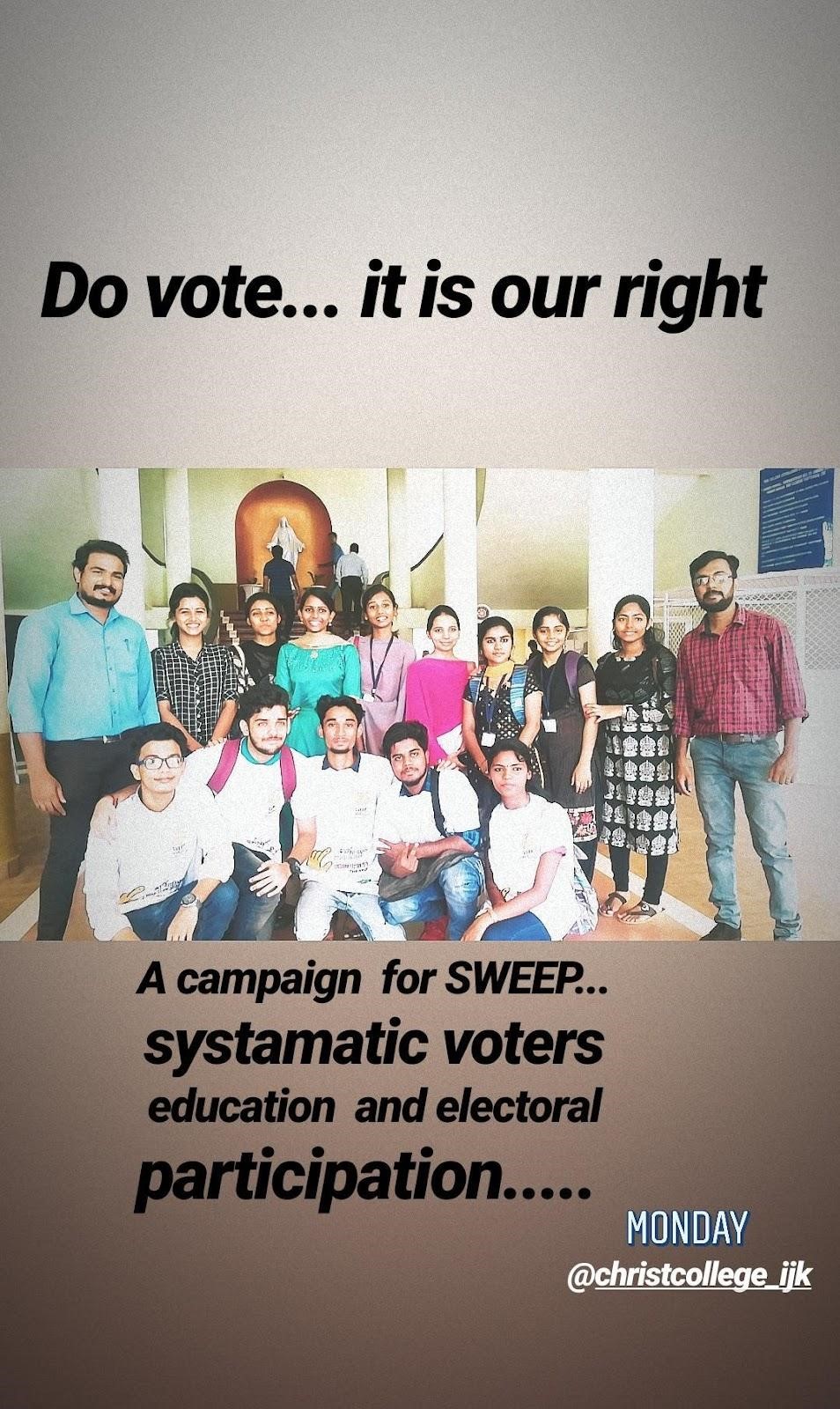 STREET PLAY
The BSW 2nd year students of Christ College Irinjalakuda conducted a street play on Car Free Day which mainly organized by ESAF for Environmental Protection at Mannuuthy.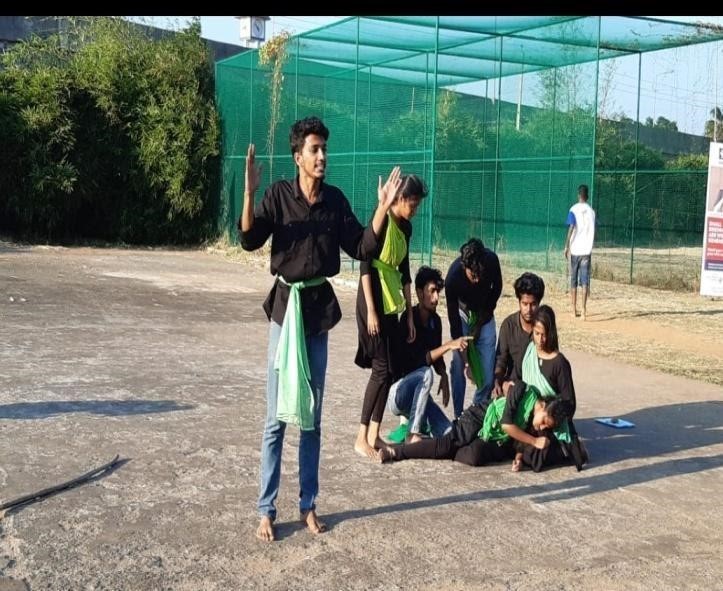 MARATHON
The BSW 2nd and 3rd year students of Christ College Irinjalakuda participated in the marathon held at Model Boys School, Thrissur. It was conducted by Child Line with the aim of 'safe childhood' for all children.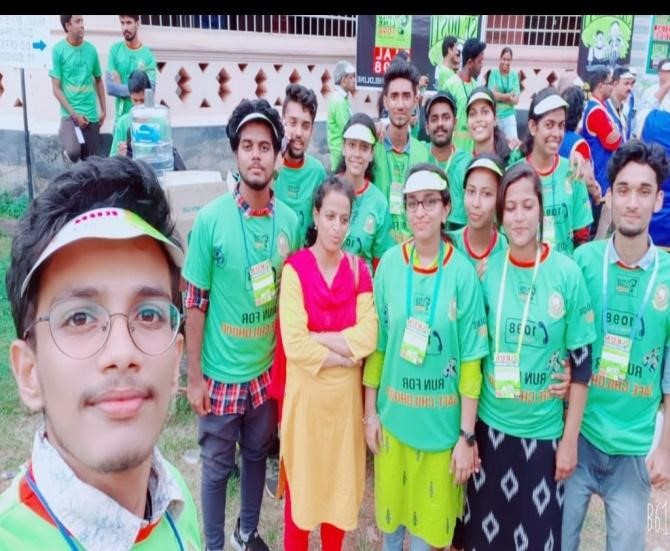 CAMP
In association with ACMI student's camp was organized on 8th and 9th April 2019 at Devamatha CMI public school. The main aim of the camp was to develop life skill among the children.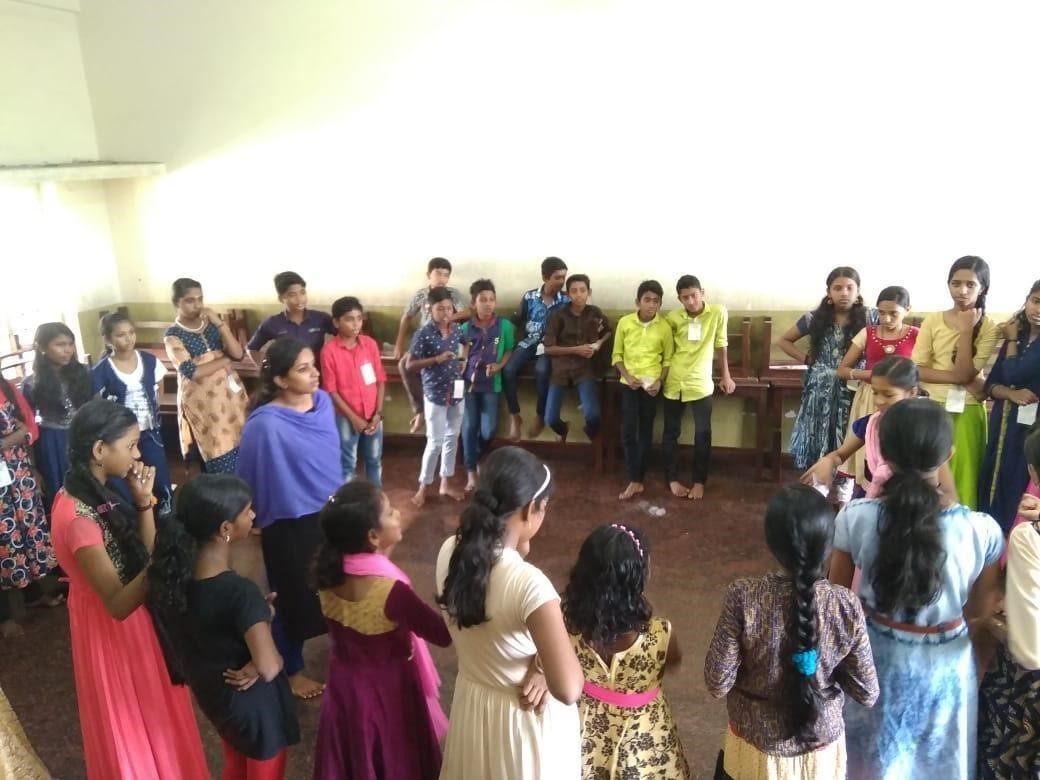 BREAST FEEDING PROMOTION - SKIT
A skit at Irinjalakuda ICDS was organized on world Breast Feeding Week of 7th August 2018.. CDPO inaugurated the function.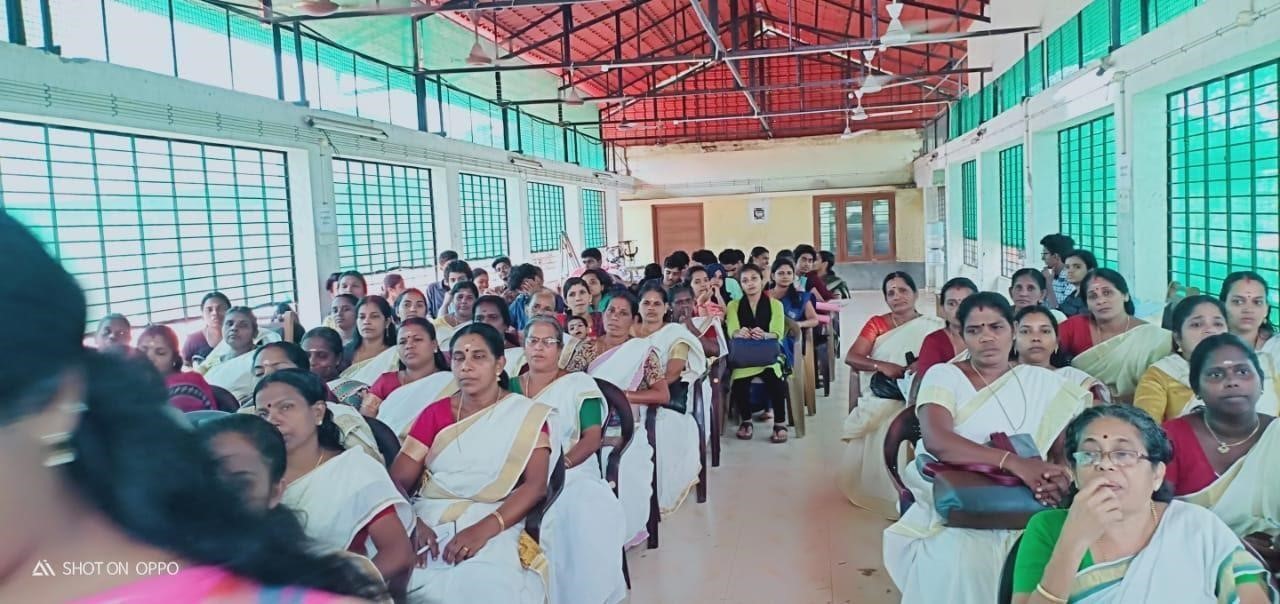 NEED ASSESSMENT CAMP FOR DIFFERENTLY ABLED PERSONS
Three day camp for assessment of differently abled person.
The following M.S.W 1st year students participated in the camp.
Arathi Jose K.
Aleena Louis
Ashley George
Anakha Jayakumar
Ann Regina Thomas
Devikrishna
Dona Francis
Shayana K. K.
Saheena M. S.
The trainees interacted with Ms. Sreeja Jayan, social worker and introduced us. Then she explained about the programs. Trainees helped in the registration counter. Trainees helped them to move for consultancy. It was the major duty of trainees. At the same time trainees interacted with the bystanders of the patients and identified their needs and problems.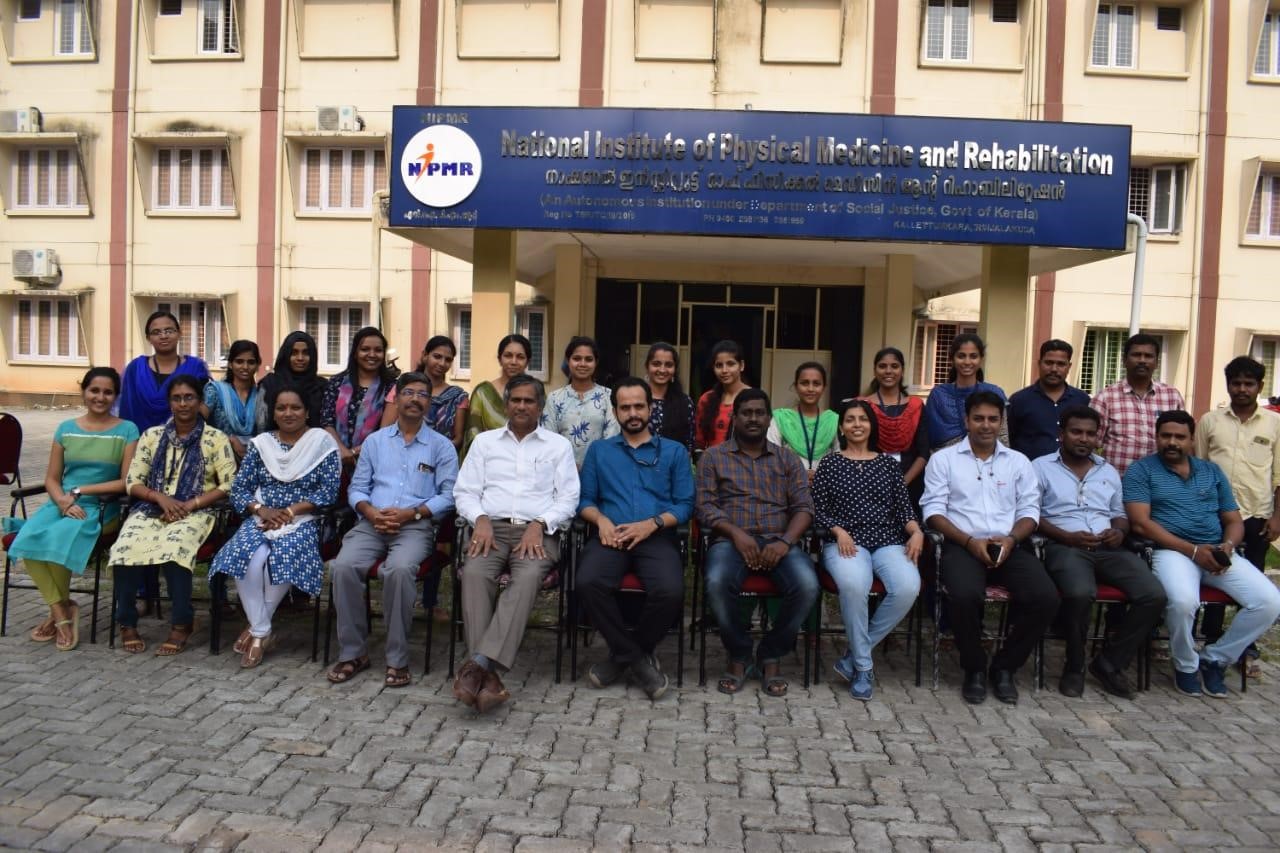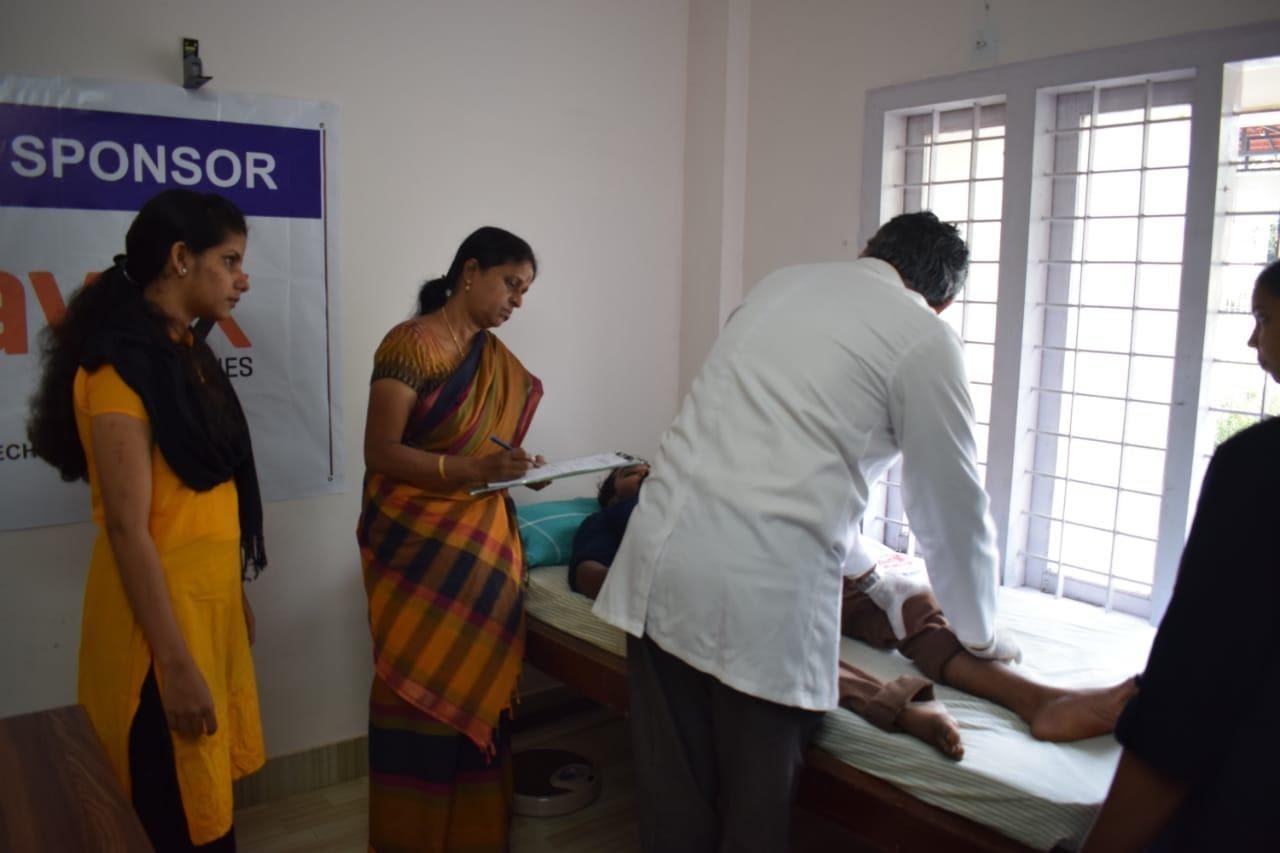 SURVEY FOR RIVER RESEARCH CENTRE
Survey organised in colloboration with River Research Centre based on River Management Action Plans. This aimed to conduct services like flood mapping, research studies, implementation of governments and private agencies projects, development of projects, sand monitoring etc. Anakkayam Small Hydro Electric Project","Schools for Rivers Program" and "River Revival Management Plan Project".. The agency currently providesservices like flood mapping, research studies, implementation of governments and private agencies projects,development projects etc.
2019-2020
FLASHMOB
As part of election campaign, Department of Social Work, Christ College (Autonomous) in collaboration with District collectorate performed flash mob in Irinjalakuda on 8th April 2019.
TRAINING PROGRAM AT KILA
Training programme organized at KILA for BSW students. visited Kerala Institute of Local Administration (KILA) as part of their curriculum and got orientation on Local Governance, PRI, and LSG etc. on 28th September 2019. 20 students participated in the programme .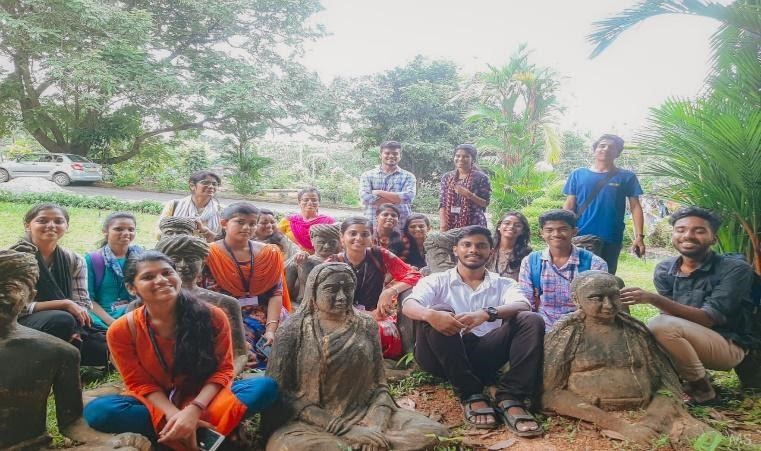 THEME DANCE
The students of second year BSW (2017-20 Batch), performed a theme dance on ' Drug abuse' on 7th july 2019 in the college auditorium.
COMMUNITY LIVING CAMP
MSW students (2019-21) admission, as part of their curriculum organized a 7 day community living camp at Malakkappara, Athirappilly Gramapanchayath. Students involved in various activities such as PRA, survey, interviews, sramdhan etc.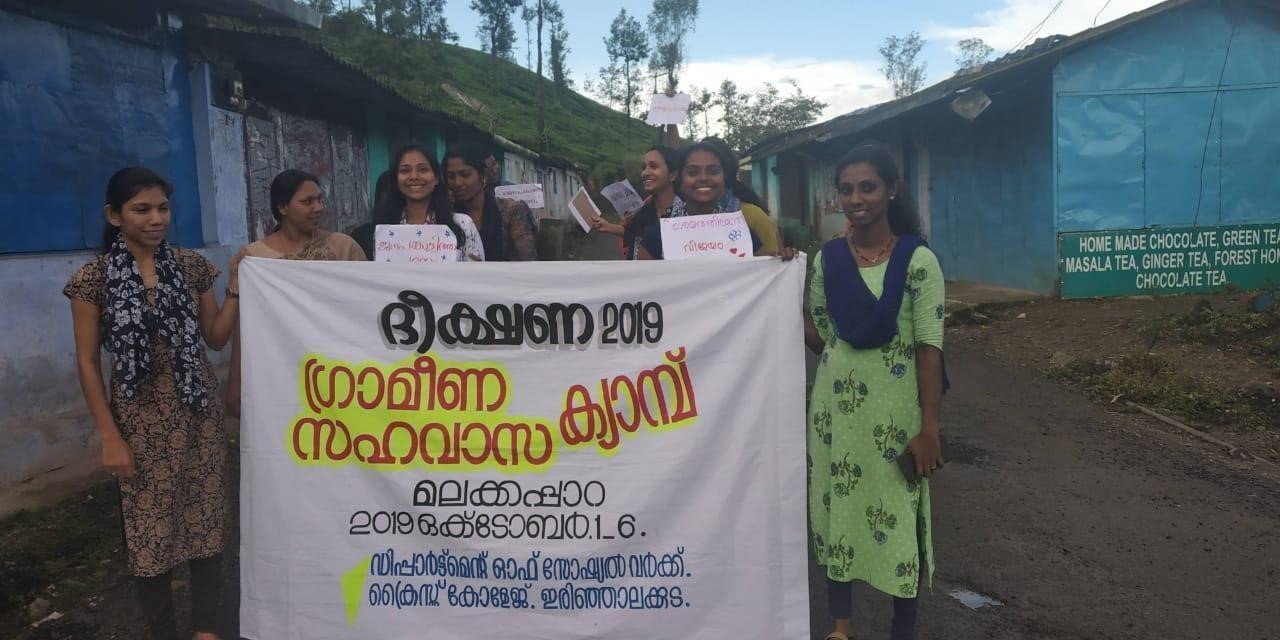 SURVEY
Conduct a socio-economic survey to identify the specific problem faced by the community, applied for RTI ACT in panchayat for seeking information regarding the water resources in that panchayat,conduct awareness classes for the vulnerable groups such as adolescents and elderly, co-ordinated an art festival for the differently abled individuals in the panchayat in December 2019.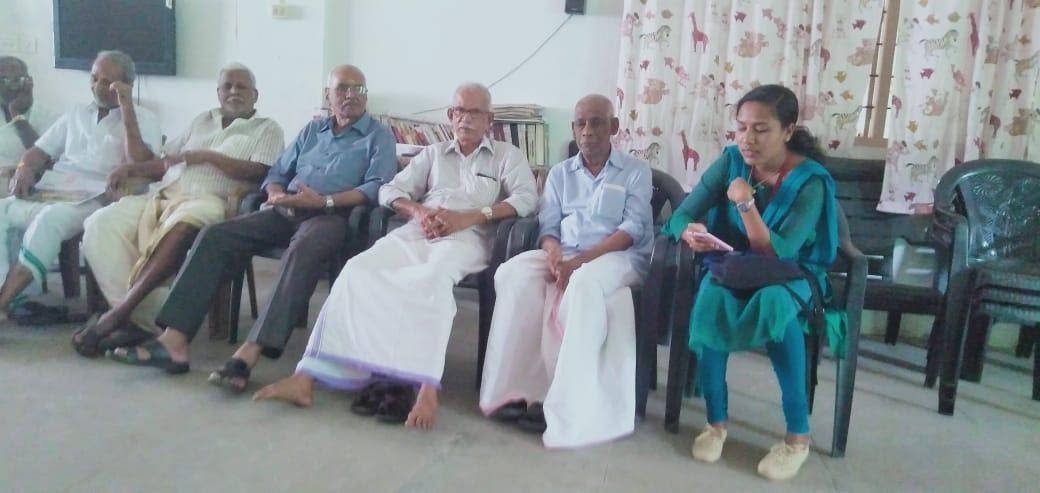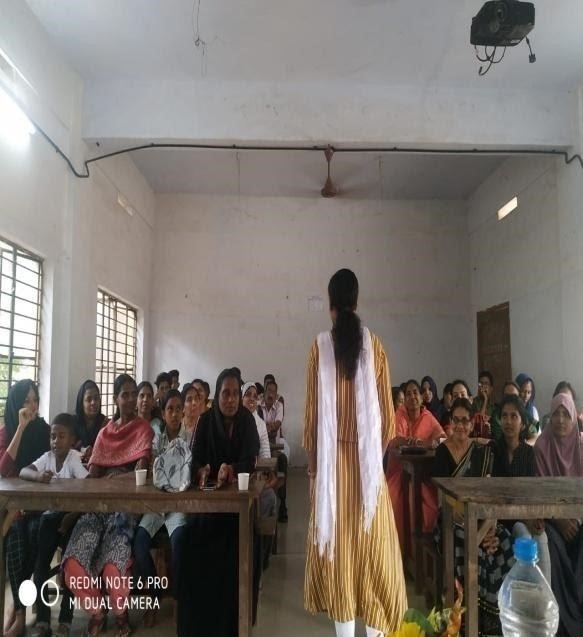 PRA TRAINING
Conducting PRA in the community using Venn Diagram as a tool. About 20 members from the community participated in the PRA and they had done the PRA themselves. Participatory rural appraisal (PRA) is an approach used by non-governmental organizations (NGOs) and other agencies involved in international development in December 2019.
HEALTH CAMP
The Social work trainees Coordinated a health camp organized by Valapad Grama panchayat for older people in the panchayat. Camp was held at primary health center, Valapad, which was inaugurated by Mr. Kuttan Master (Panchayat president ).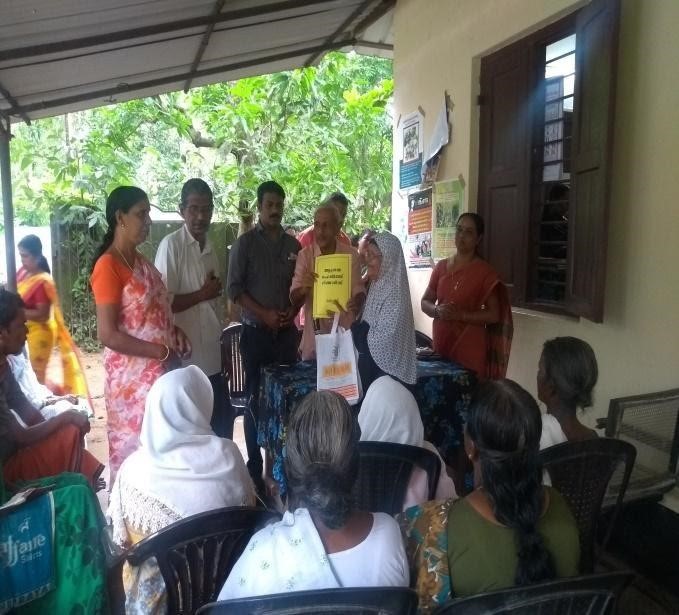 WORLD BREASTFEEDING WEEK CELEBRATION
World Breastfeeding Week is an annual celebration which is held every year from 1 to 7 August 2018. .The trainees well coordinated the inaugural function for the world breastfeeding week and also conducted a signature campaign which was monitored by Mrs. Vaidhehi (ICDS Supervisor in August 2019).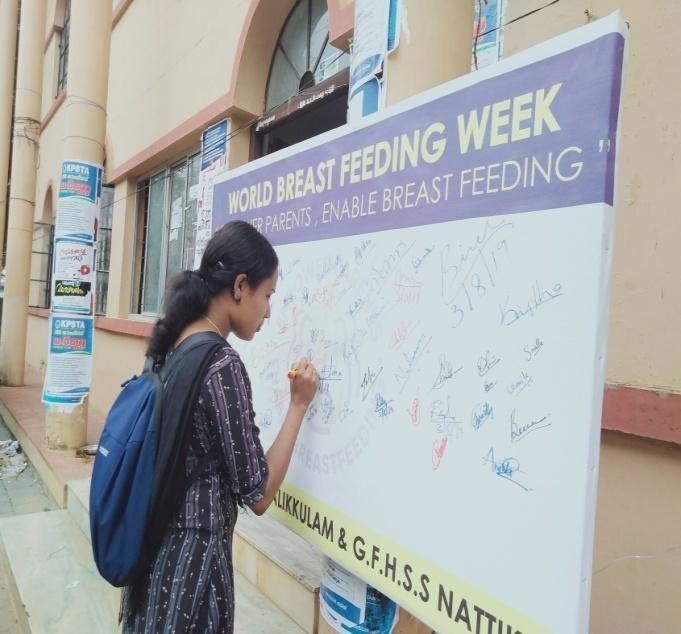 AWARENESS CLASS
The trainee took an awareness class for the adolescent children especially focused on girls. This was inaugurated by Ms. Charutha T R( Gender Resource coordinator ) and the trainee had given an awareness session for adolescents on the topic "Adolescent development ". It is to To provide age appropriate information on growing up and prepare them to accept all physical & mental changes during adolescence and enable them to be comfortable with themselves.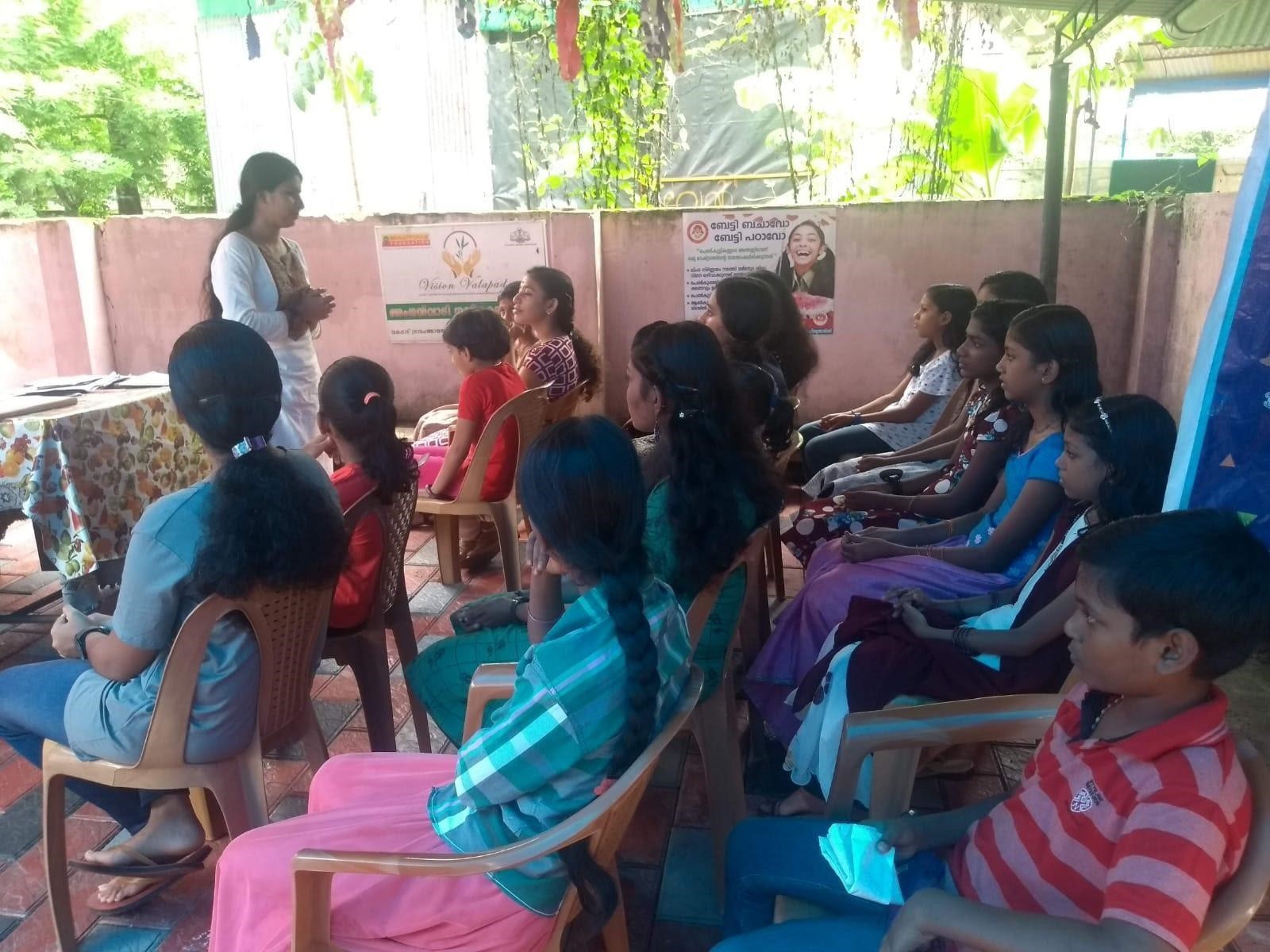 PROGRAMME FOR ELDERLY - 'LET'S DANCE AND SING WITH THEM'
Second year Social Work graduate students of Christ College organized a program on Thursday 27-02-2020 for the elderly in Valappad Grama Panchayat titled'Let's dance and sing with them '. The event was held at Pakalveedu under the Sri Ramachandra Trust in Kalimpong with the participation of senior citizens. In addition, books were donated as part of the library development. Social work graduates Surya Mahadev, Abhishankar, Jeffrey and Vinimaria led the group.
OBSERVED WOMEN'S DAY
On 8th March 2020, BSW students observed women's day. Trainee made an interaction session and identified their problems and needs through a group activity.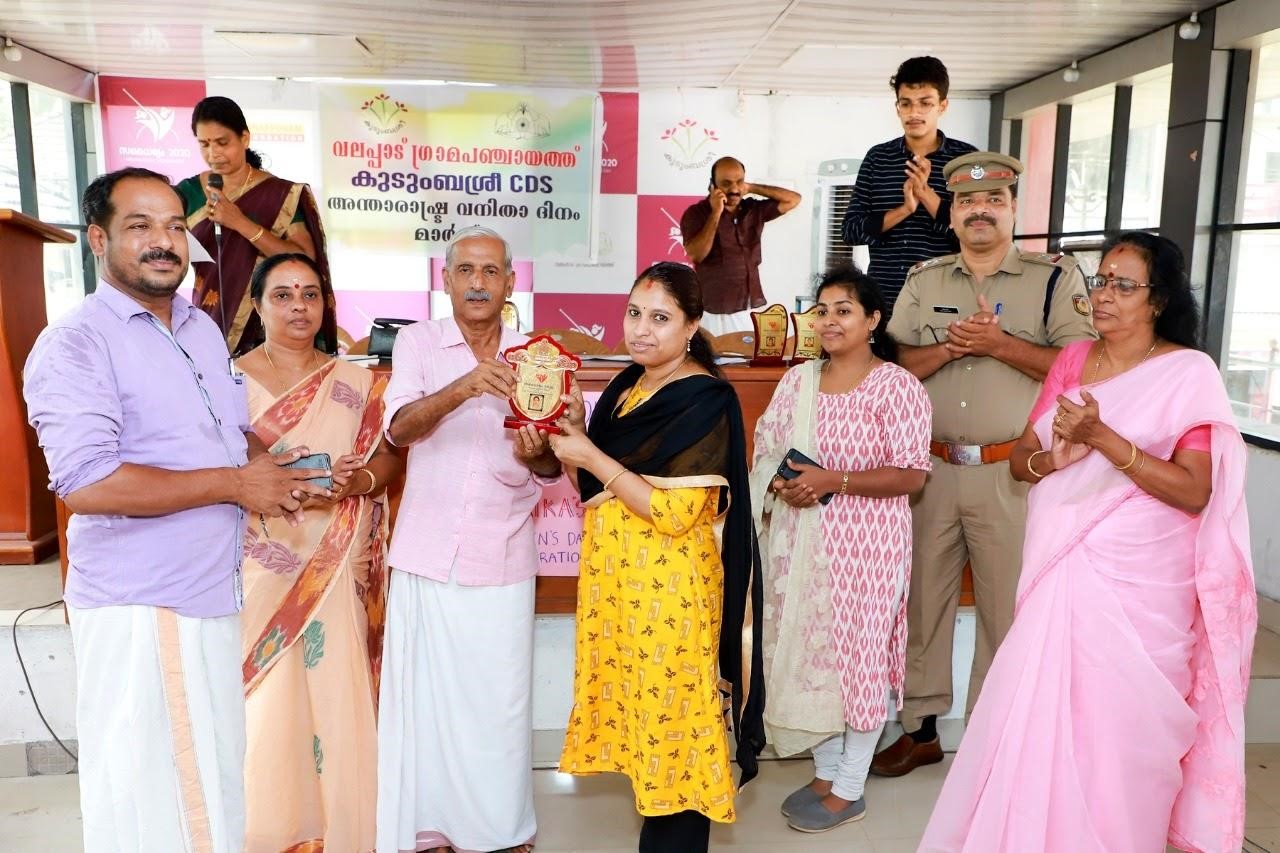 NATIONAL CONFERENCE - 'ZRAVAS T20'
The department of social work of Christ college ( autonomous) Irinjalakuda organized the national conference "ZRAVAS T20" about climate justice; a collective endeavor for system change on 2nd March 11, 2020. Dr. K Nrayana Kuru, chairman of state police complaint authority, former judge, higher court of kerala and acting chief justice, high court of Madras inaugurated the ceremony.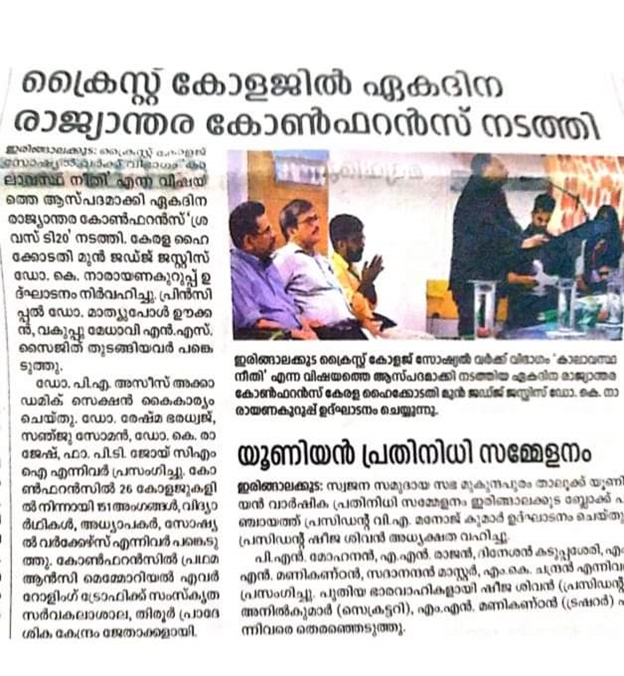 NATIONAL GIRL CHILD DAY CELEBRATION
National girl child day- Social work trainee assist the ICDS supervisor in the special meeting of girls for share their needs and problems for their own development. Trainee made an interaction session and identified their problems and needs through a group activity on 24th January 2020.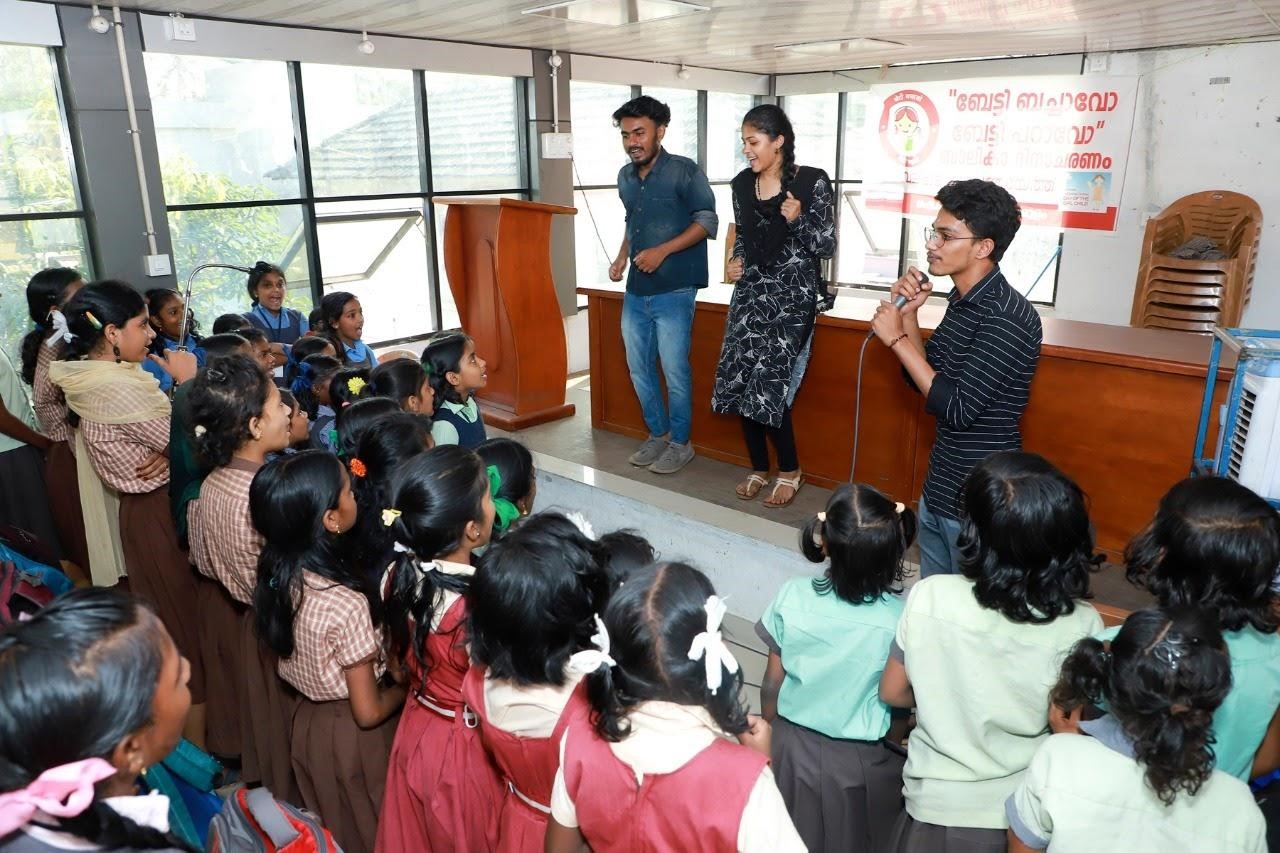 PARTICIPATION IN MONTHLY SECTOR MEETING OF ICDS
Participated in monthly sector meeting of ICDS- Social work trainee participated in the monthly sector meeting of ICDS on 1st February 2020 for knowing about how the anganawadi workers are evaluating their services to the community in the supervision of ICDS supervisor and documenting it.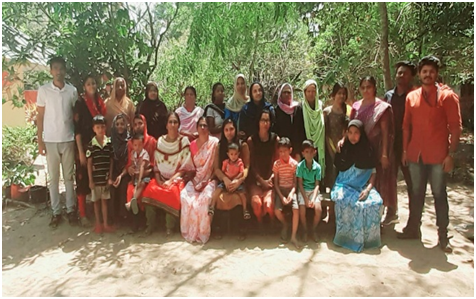 ANTI-TRAFFICKING CLUB
Anti Human Trafficking Club was formed on November 16 , 2019 .The function was inaugurated by Thriisur Child welfare Committee Chairman Dr.K.G.Vishwanathan.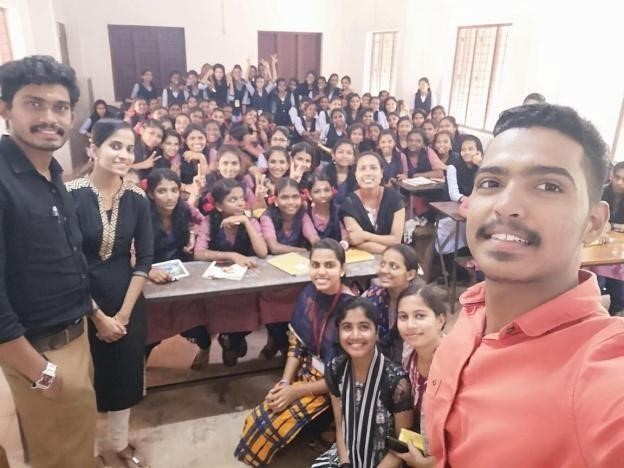 2020-2021
RECAST WOMEN - REALITY AND POSPECTS(TWO DAY NATIONAL WEBINAR)
The Department of Social Work, Christ College (Autonomous), Irinjalakuda has organised and conducted a two days national webinar in Zoom & You Tube Live Platform on the theme 'Recast Women-Reality and Prospects' during the month of September 2020 in collaboration with IQAC. The objective of the programme was to flash a light on the perspectives of women development initiatives around the globe and the scope and new definitions of Feminist social work.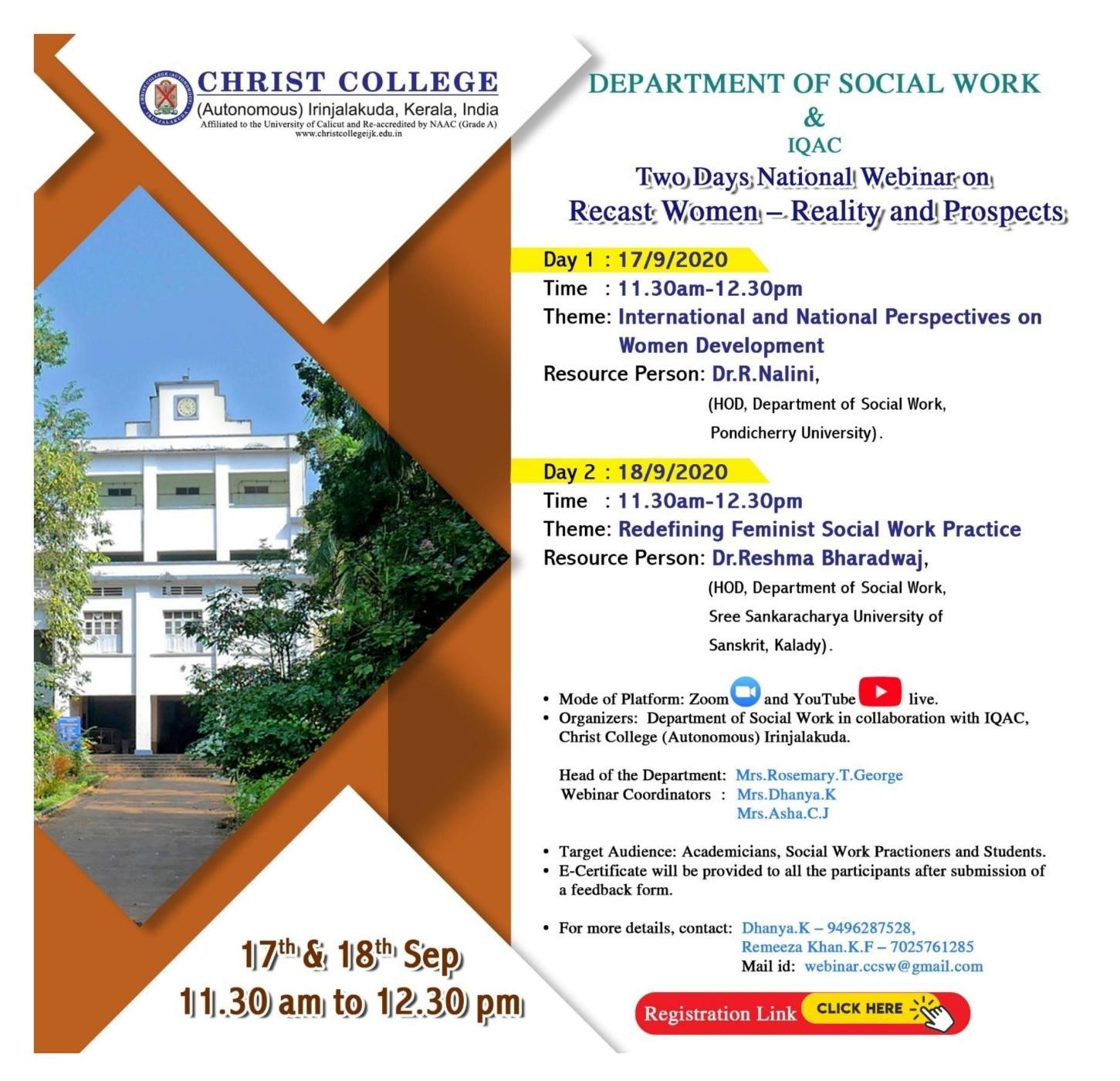 ICT SERIES 1 - ICT SKILLS AND CYBER AWARENESS: A SOCIAL WORK PERSPECTIVE.
The Department of Social Work of Christ College (Autonomous) Irinjalakuda planned to conduct a webinar series in the main theme of the webinar series was "ICT SKILLS AND CYBER AWARENESS: A SOCIAL WORK PERSPECTIVE.This will surely enrich their knowledge and experience in ICT Skill upgradation.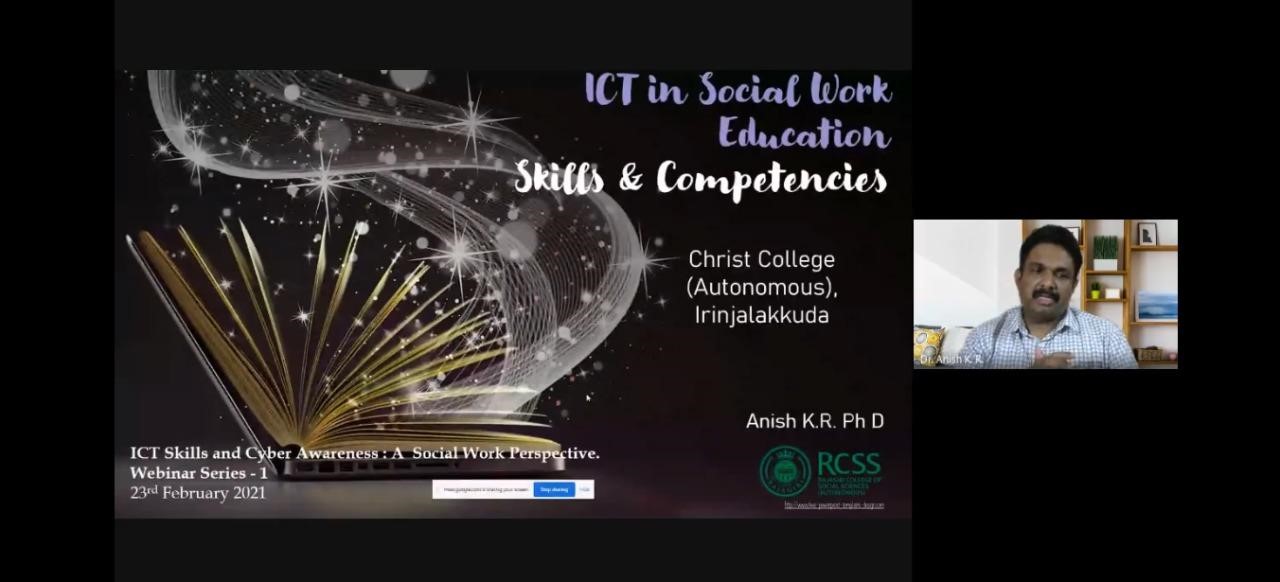 ICT SERIES 2- BASICS IN CYBER AWARENESS
The series was on the theme BASICS IN CYBER AWARENESS on 1st March, Monday at 7.00pm in the online platform of Google meet . The resource person Mr. Santhosh Kumar (Public Relation Officer in the office of Chief Police Commissioner)has 25 year of experience.. The session that he held was really very informative , valuable and interesting. The way he presented about the topic was very clear and precise.
In the session he focused on mainly 3 topics such as,
What is cyber-crime? ,
How can we avoid cyber-crime? &
How can we protect ourselves from the cyber- crime.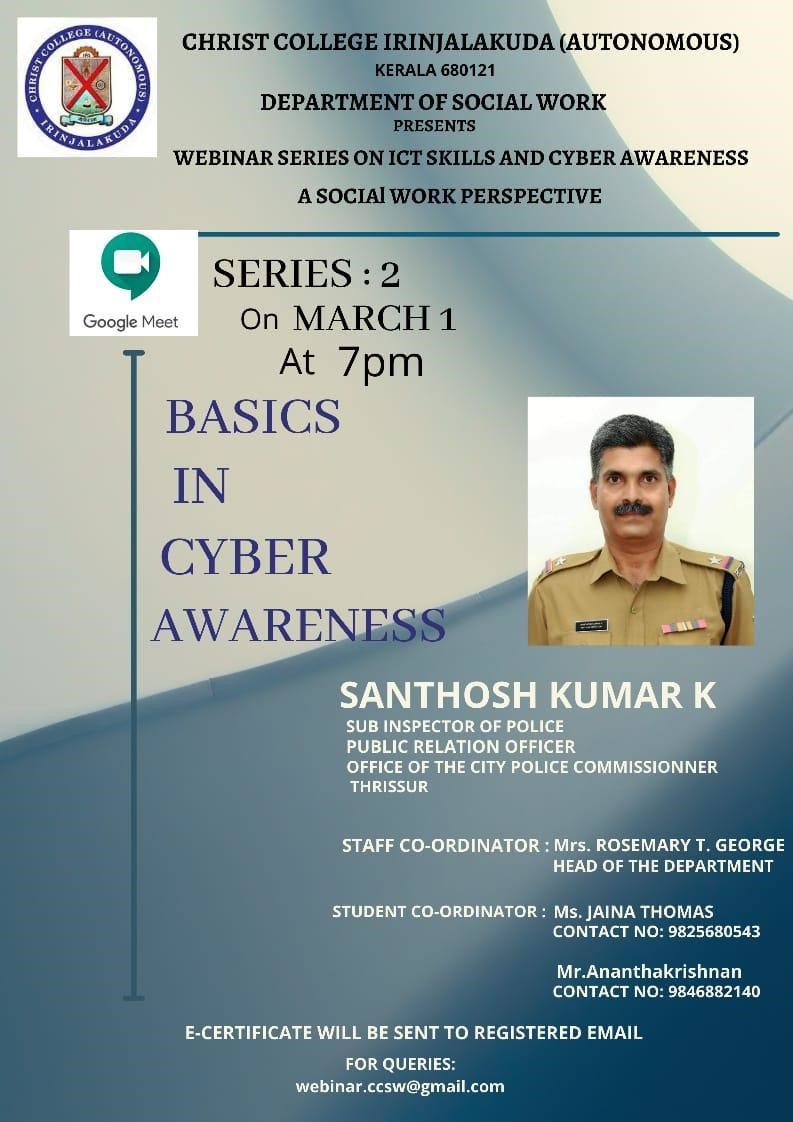 MOU WITH KESS
Memorandum of Understanding between Christ College(Autonomous), Irinjalakuda & Kuriakose Elias Service Society (KESS), Thrissur.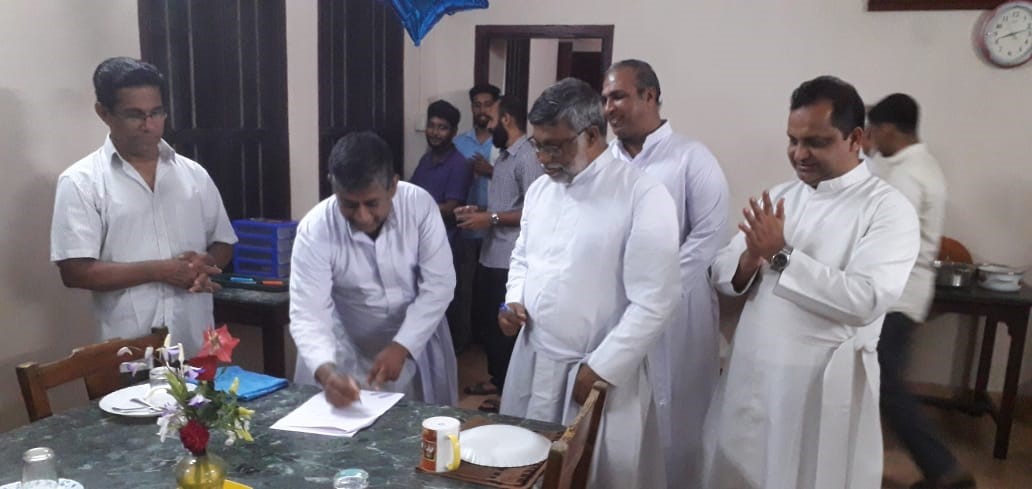 MOU WITH SNEHAGIRI SOCIETY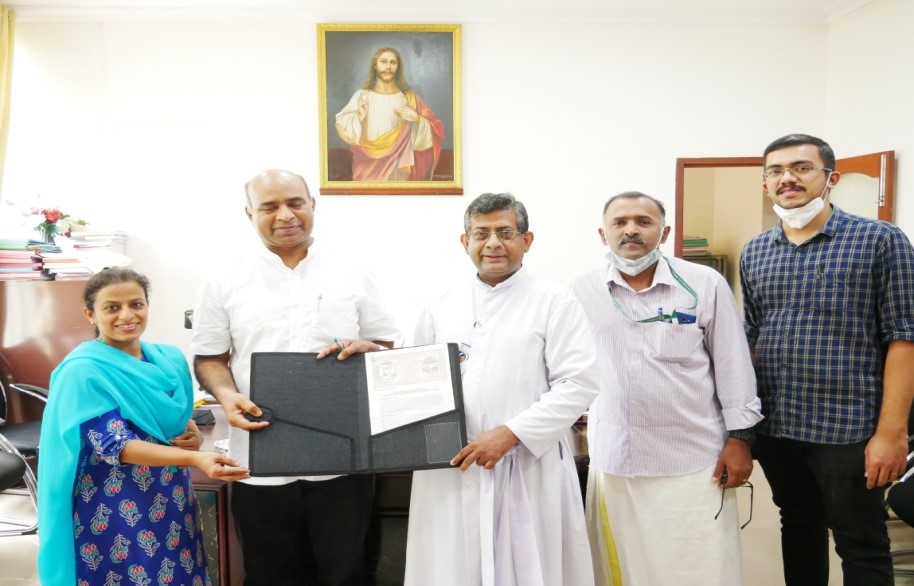 WEBINAR SERIES:
Voice of Social Workers : Field Testimonies (Orientation Series)
Webinar series:1 - Community Development Through KESS Model Resource Person Dr.Fr. Joy Vattoly , Former Director of KESS Bhavan on 23rd October
Webinar series - 2 -An outlook on Adult Social Care service in UK on 31st October 2020 by Mr.Milton Jacob ,Social Worker, UK
Webinar series - 3 -Rural Empowerment:A pragmatic Approach Resource Person Mr.Nasar Bhandhu,Founder of Zero Foundation Bengal on 6th November 2020.
Webinar series -4- Expedition to Canadian Health Care Social Work on 13th November Resource Person was Mr. Baiju Mathew, Social worker at Torento.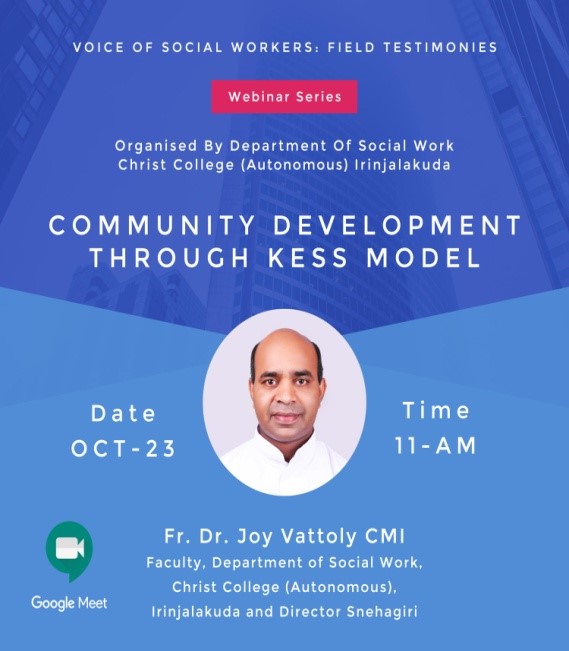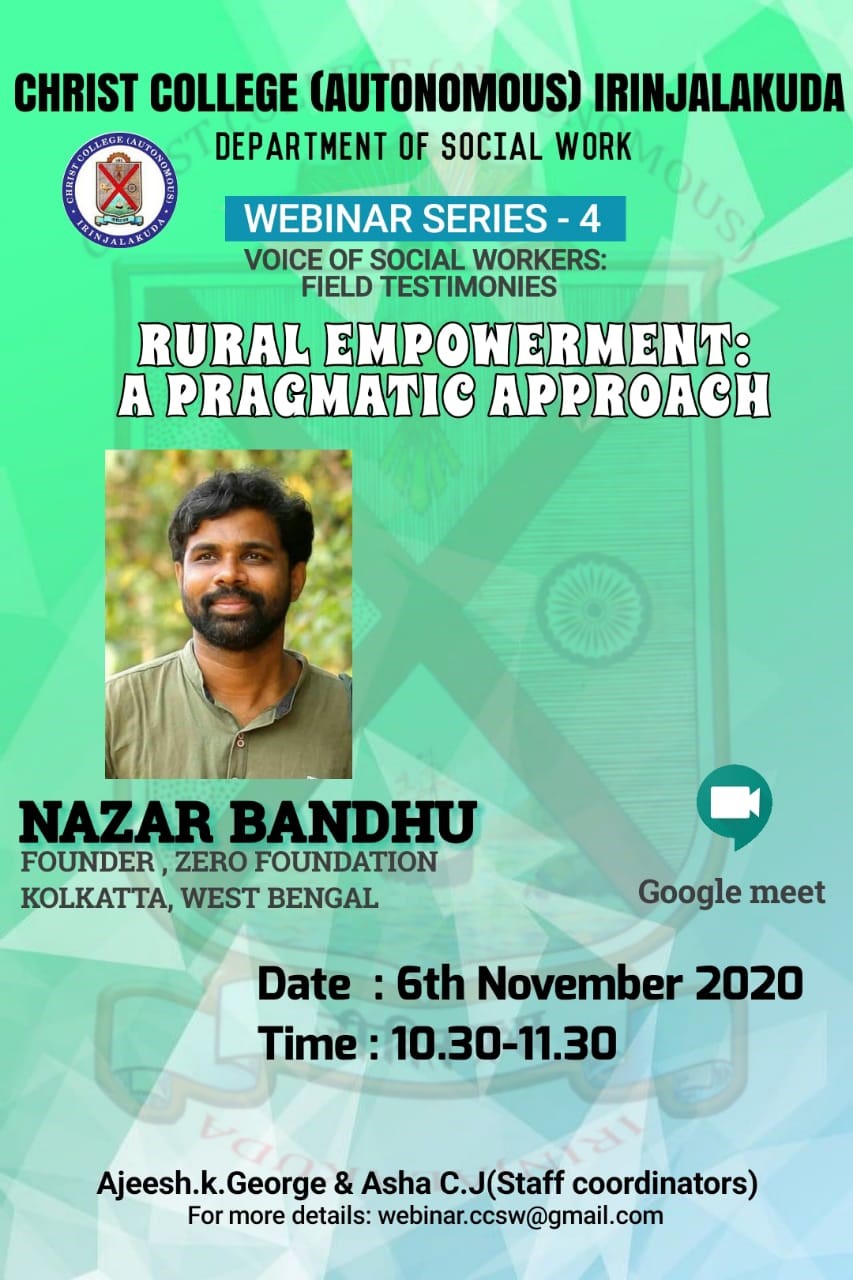 COVID HELP DESK AT IRINJALAKUDA MUNCIPALITY
Department supported in Muncipality 's war room activity .Four MSW students volunteered for COVID 19 related activities of Muncipality .They worked on various programs like Aroghya sabha, telecommunication, tele counselling, tele medicine, and poster creations for Public awareness. In addition daily Covid 19 data recordings and its consolidation of 41 wards under Irinjalakuda Municipality were done. Trainees did field investigation, recordings etc. at Covid test Centre, Irinjalakuda General Hospital and certain shops under Irinjalakuda Municipality divisions.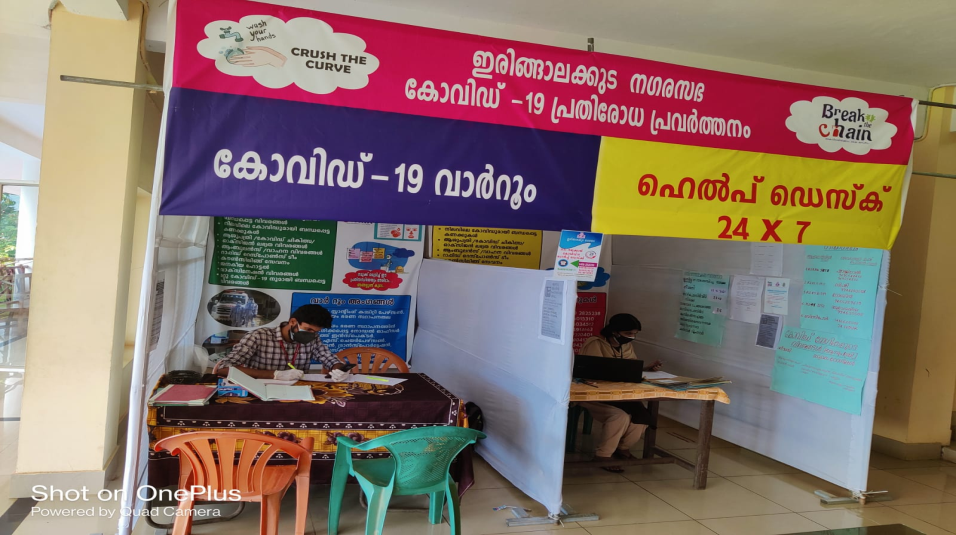 SURVEY (POKKALI CULTIVATION )
Department organized to conduct the survey about Kerala food platform (KFP). The Kerala Food Platform (KFP), a futuristic concept that could take the production and availability of safe-to-eat, organic food and collected the data from the Panchayath's kadakara and Ezhikkara panchayat..
WE- SAFE PROJECT – PROJECT OF DEPARTMENT OF SOCIAL WORK
The project envisioned to support the community to withstand against the Covid-19 pandemic situation. It is a project started during the second phase of Covid-19 i.e., 25 May 2021 and its timeline is three months.The project aimed at implementing among the vulnerable groups of Irinjalakuda Municipality, Thrissur District. The project is to create awareness about taking vaccination during the pandemic situation and to help in registering in the online vaccination portal.
.
WE-SAFE" project has been launched in the 35th ward of the municipality under the leadership of the Social Work Department of Christ College Irinjalakuda. Prof. R. Bindu, Minister for Higher Education inaugurated the project and distributed learning materials and mobile phones to 100 students. Project activities were lead by Irinjalakuda Municipality Welfare Committee Chairman C.C. Shibin and Professor Rosemary T. George, Vice PrincipalFr. Dr. Joy Peenikapparambil CMI , Fr. Dr. Joy Vattoli CMI and Prof. Ajeesh George addressed the function.